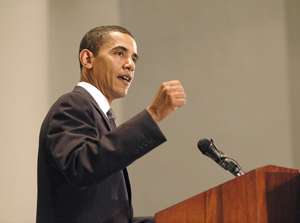 Texas Sen. Ted Cruz claimed that President Obama's decision to take execution action on immigration is an unconstitutional decision. He also stated that the Congress would do all that is possible to stop him from using his executive authority. Just like him, there are other lawmakers who argue that only the U.S. Congress has the authority to defer deportations of undocumented immigrants and the President cannot do that. However, it seems like the President has the authority to take execution action on immigration.
Almost every U.S. president since Dwight D. Eisenhower has used executive authority on immigration. The American Immigration Council says that U.S. presidents have used their executive authority to grant relief to immigrants 39 times, since 1956. Two Republican presidents, Ronald Regan and George H.W. Bush have also taken executive actions and have granted temporary legal status to undocumented immigrants who were left out in the 1986 immigration overhaul. All those presidents who took executive actions did not face threats of government shutdowns or loss of executive authority similar to what President Obama is facing.
Most of those presidents acted on their own as the U.S. Congress failed to do so. President Obama is now in a similar position. The House failed to vote on the Senate immigration reform bill and the Republicans have not come up with a solution. As the U.S. Congress failed to act, the President has now decided to act on his own and fix the immigration system as much as he can.
Some members of the Republican Party have also told that they have considered taking the Obama administration to court as his executive action is unconstitutional. However, several law professors and immigration experts have expressed their opinion that the President has the legal authority to act on immigration. Cornell University law professor Stephen Yale-Loehr says that several times the federal courts have noted that the President of America has the authority to exercise prosecutorial discretion to defer deportations and shape the implementation of the country's immigration laws.
The President has the authority to use his executive authority on immigration and to defer deportations of undocumented immigrants. He has both laws and presidents, who have already taken executive action on immigration like, Eisenhower, Johnson, Kennedy, Nixon, Carter, Reagan, Bush Sr., Clinton, and Bush Jr., on his side.
Apart from that, there are several good reasons for President Obama to use his executive authority on immigration reform. His immigration policy will benefit mixed-status families and prevent many children from being separated from their parents. It would also help boost the economy of the country as the newly legalized immigrants would start working legally and paying their taxes.
For updates on Obama's executive action keep track of our immigration blogs and visit our Facebook and Twitter pages.