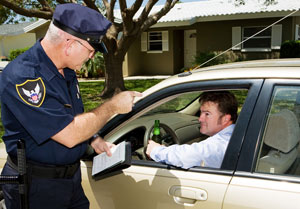 U.S. Department of Homeland Security (DHS) will soon come up with new enforcement guidelines. Under the new guidelines, immigrants convicted of shoplifting or driving under the influence are likely to face serious immigration consequences. These new guidelines also would prevent many from applying for legal status under President Obama's immigration reform plan.
Javier Licón came to the U.S. to work as a horse groomer in 1997, on a temporary work visa. His visa was cancelled in 2003 and just like his fellow workers, Licón stayed back in the U.S. illegally. He then got married to Sherrie Soria, a U.S. citizen in 2009 and they now have three children. Licón will qualify for temporary legal status under Deferred Action for Parental Accountability (DAPA) as his children are U.S. citizens.
Though he meets all the requirements, he now believes that an offense he committed eleven years ago will keep him from qualifying for DAPA. In 2003, Licón was stopped for driving under the influence. That happened after his visa expired. He went to court and spent three nights in jail after paying his fine. Immigration officers told him that he will be deported if he does not choose to leave the country by himself. He chose to leave voluntarily and went back to Mexico. After two months, he again got into the U.S. illegally. This is another reason why Licón may not be able to apply for deferred action.
He says that if he applies for this temporary status and if the authorities say that he is ineligible and that he has to return to Mexico, he will be separated from his wife and children. Soria says that she will become a single mother of three if her husband is removed from the U.S.
President Obama stated that his administration will focus on deporting criminals and felons and not on separating families. The new enforcement priorities are not clear according to immigration advocates. Many now believe that Licón and others in similar situations may not be able to apply for legal status under the new immigration rule and will still have to remain in the shadows with deportation fear or return to their home countries.
183 immigrants who might qualify for temporary legal status were released from detention centers by ICE after President Obama announced his reform plan. However, U.S. Immigration and Customs Enforcement (ICE) has not made an announcement about its screening process and how it will handle cases similar to that of Licón.