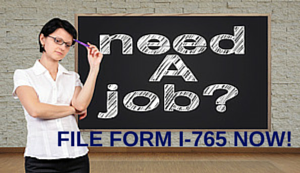 H-4 visas are for the dependents of H-1B visa holders. H-4 visas do not permit the holders to work in the U.S. H-4 visa holders can attend school in the U.S., open bank accounts and get driver's licenses. They can also change their status to another visa status by filing Form I-539, Application To Extend/Change Nonimmigrant Status. But they cannot obtain social security numbers and legally work in the U.S.
Many H-4 visa holders are forced to stay at home though they are highly skilled. The only reason is because their spouses come to the U.S. on H-1B visas meant for highly skilled immigrants and they as dependents come here on H-4 visas that do not allow them to work.
Geetha Thangasamy is one such H-4 visa holder who is unable to work in the U.S. though she is a software engineer. She has been living in the U.S. with her husband who is an H-1B visa holder, for the past 6 years. She is unable to work in the U.S. as her visa does not permit her to do so.
In May, U.S. Department of Homeland Security (DHS) announced a new rule that would permit certain H-4 visa holders to get work permits. This rule would apply to the husbands or wives of H-1B workers who have applied for employment based green cards and if their applications for legal status have been approved. This rule has not yet been implemented and President Obama's new immigration reform rule has supported this pending rule that would allow some H-4 visa holders to work in the country. The President's initiative is likely to finalize the proposed rule.
Thangasamy believes that things will soon change and she says that she is looking forward to work in the U.S. According to DHS, if this new rule is implemented, more than 100,000 H-4 visa holders will initially become eligible for work permits. The agency says that this rule would help the country retain highly skilled workers.