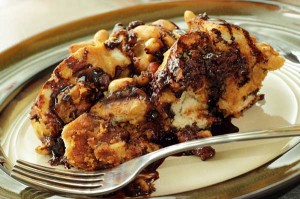 Here's the recipe for Capirotada (Mexican Bread Pudding), a traditional Mexican dessert. Capirotada features cheese, cinnamon, dried fruits and nuts. This dish made with whole wheat bread is a perfect and a healthy after-school snack for kids. Moreover, today marks the beginning of Lent during which many abstain from eating meat. Capirotada is also one of the best Mexican meatless recipes for Ash Wednesday and Lent. Though it a viewed by many as a traditional Lenten dessert, it can be served at any time during the year.
Ingredients
1 whole French bread loaf
1 1/2 cups dark brown sugar
3 cups water
3 cinnamon sticks
3 cloves, whole
1 cup raisins
1/4 cup toasted almonds
2 tablespoons butter
2 cups shredded cheese
1 cup pineapple chunks
cooking spray
Preparation
Combine water, cloves, cinnamon, and sugar in a saucepan and bring to a boil, stirring occasionally. Boil until syrup is reduced to 2 cups and let it simmer for about 10 minutes. Strain the syrup and remove cloves and cinnamon sticks. Toast bread and arrange in a single layer in a baking dish coated with cooking spray. Sprinkle some raisins, pineapple chunks, almonds and cheese evenly over bread. (Any desired type of dried fruit for can be added.) Make sure that enough cheese and other ingredients are left over for the second layer. Gradually pour the sugar syrup evenly over it. Wait for few minutes for the syrup to be absorbed and then arrange another layer of bread on top. Add the same ingredients as the first layer. Pour sugar syrup over it and cover the baking dish with foil so that the fruits don't burn while baking. Place the baking dish with bread in an oven and bake for around 20 minutes at 350 degrees. Uncover the baking dish and bake until cheese turns golden brown. Place two to three slices of bread on each plate and serve it warm topped with some syrup, nuts and raisins. To make it more colourful, top it with some rainbow sprinkles before serving. Keep track of our immigration blog for more recipes.