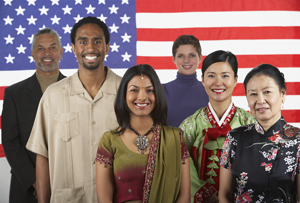 Undocumented immigrants who the President Obama's immigration reform plan will protect from deportation are beginning to breathe a sigh of relief. They believe that the new policy will give them an opportunity to prove that they want to contribute to the nation. They have been pleading the Congress for years to grant them such relief from deportation. Though the President's plan will only shield them from deportation temporarily, they are happy about the new policy as it will allow them to study here legally, apply for driver's licenses and work legally.
Obama's new policy will grant a deportation relief to more than four million immigrants. It would focus on deporting criminals and those who recently got into the country. His actions will protect several undocumented adults and youth from deportation.
Immigrants who have spent most of their lives in the U.S. say that they want to be Americans. Angel Diaz, 21, who came to the U.S. illegally as a child says that she wants to be an American though the country does not recognize her. Diaz was three years old when she came to the U.S. with her parents from Columbia. She and her parents entered the U.S. on non-immigrant visas and overstayed those visas. She said that she has been here all her life and that her family works here, attends school and pays taxes. Caterina Vilches came to the U.S. illegally from Chile 15 years ago. She is the mother of 10 year old U.S. citizen twins. Obama's actions will protect her and her husband from deportation as their children are U.S. citizens and they have been living here for more than five years.
The President's new plan will protect less than half of the undocumented immigrants living here and the others still have to remain in the shadows with fear of deportation. The new policy has left out many. Mauricio Hernandez Tapiero, 52, who now lives in north Philadelphia, came to the U.S. six years ago from Columbia on a tourist visa. He is single and he does not have children and so he will not qualify for temporary legal status under Obama's new policy. He said that he has a sense of being left out. He now wants those who will now benefit from the President's executive actions to continue to fight for the undocumented immigrants who are left out.