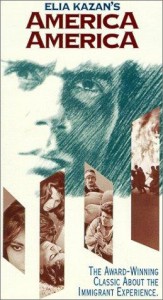 Immigration always plays an important role in American life and culture. Here are some movies that revisit the American immigrant experience and touch on the different aspects of immigration.
America, America (1963)
This a movie about a young Anatolian Greek, who is tired of the miserable life in Turkey and the oppression by the Turks. His father sends him to Constantinople with family treasures to make money. He was supposed to make money and reunite with his family members. But his dreams were different and he escapes to the U.S., the land of opportunity.
Papers: The Movie
This movie is about the challenges the undocumented youth face in the U.S. once they turn 18. The young people portrayed in this movie are those who were educated in the U.S. and were brought up just like the other fellow Americans. Their only home is the U.S. and they do not know about their home countries as they have lived most of their lives in the U.S. This movie talks about the difficulties they face without immigration "papers." They cannot drive and work legally. Some states also do not let them attend college. They live in constant fear of detention and deportation.
Green Card (1990)
Green Card, directed by Peter Weir, is about an American woman and a French man who enter into a fake marriage, known as a marriage of convenience for immigration purposes. They pretend to be really in love when the immigration agents begin to investigate them to determine whether their marriage is legitimate. However, immigration authorities find out that the marriage is fake and that is when the couple realize that they are really in love.
Tony & Janina's American Wedding (2010)
This lengthy documentary is about Tony and Janina Wasilewski's family that is torn apart because of the U.S. immigration laws. Janina is deported back to Poland after 18 years in the U.S. She also takes her six year old son with her. The documentary is all about Wasilewski's struggle to reunite with Janina and their son. This film tells the story of the struggles undocumented immigrants in the U.S. face.