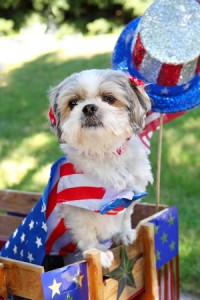 For many, Fourth of July, America's Independence Day is a fun holiday. But it is one of the least liked day for dogs and other pets. Most pets are lost on Independence Day than any other day of the year. Losing a dog can be a terrifying experience that no one wants to go through. Here are few tips that will help people make sure that they do not lose their pets this Fourth of July weekend.
It is mandatory to make sure that the gates and doors of the house, that a dog or other pets can easily escape through, are closed securely. Likewise, the dog's collar and leash must be strong. This will help a spooked dog be in his place.
Dogs love going out and socializing but that can be saved for another day. Reports show that many dogs run away during fireworks. They also do not love fireworks and explosions as much as we humans do. Dogs can be left at home on the 4th of July as even a very small noise could be enough to startle them and cause them to blot. It is wise to walk the dogs and leave them at home before the party starts.
As dogs can easily slip out of homes, it is a must to make sure that the pets have microchips and updated tags. These tags must have the dog's name and contact details of the pet owner. Pet owners need to make sure that their dogs wear their tags. This will help them find their pets even if they run out of their homes. If at all a dog gets out, their owners must contact the rescue, shelter, police or animal control for help. They will help in finding lost pet.
Pets need to be kept calm in a safe zone and in a comfortable spot. Pet owners will need to make sure that the windows are shut before they leave for fireworks. Animals' sense of hearing is too sensitive, so it is not right to use fireworks when pets are around. Blasts from fireworks can damage their ears and moving colors could terrify them.
There will be a lot of food hazards at barbeques so pet owners need to keep an eye on what their dogs are eating. There are a lot of foods that are poisonous to dogs. Meat with bones or chicken bones can tear up their digestive tracts. So dogs must not be let to eat excess.
Hope these tips help pet owners have a safe Independence Day with their pets! Happy Independence Day!