Immigrant Visa Extraordinary Abilities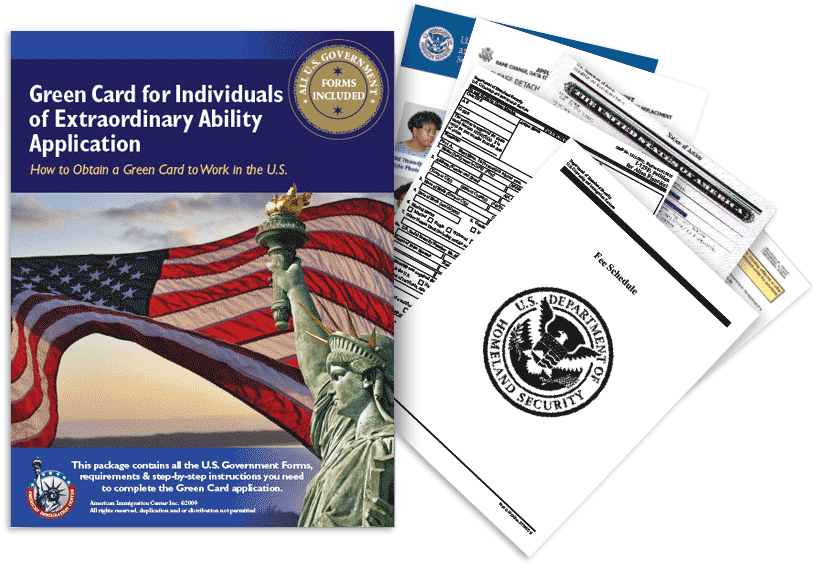 Start Application immediately.
Avoid mistakes: Easy step-by-step instructions.
New and updated Immigration Forms included.
Secure Download (All information protected).
Description
Get your Immigrant Visa for Individuals with Extraordinary Ability and come to work to the U.S. Start your process today!
The extraordinary ability category is reserved for those immigrants with extraordinary ability in the sciences, arts, education, business, or athletics, as demonstrated by, "sustained national or international acclaim" and "achievements recognized in the field through extensive documentation. This applies only to a small percentage of immigrants that have risen to the very top of their field. For example, if you received a major internationally recognized award, such as a Nobel Prize, you qualify for the extraordinary ability category.
There are advantages in applying under the category of a green card for extraordinary ability. People with extraordinary ability can self petition and they do not need Labor Certification, which is needed in most other green card through employment categories .
The most important requirement to apply under the extraordinary ability category is proof of the extraordinary achievement. Most common examples of such recognition are the Nobel Prize, the Pulitzer, Academy awards, Olympic medals, etc. It is not possible that everyone with extraordinary ability is a Nobel or Pulitzer Prize winner. There are other ways to prove that you qualify for a green card through extraordinary ability. You can find alternative evidence of extraordinary ability inside this kit.
Applying for an Immigrant Visa by your own could be a very complex issue. But now you can successfully complete your process using this do-it-yourself package. Find the Government forms, requirements and step-by-step instructions for the entire process. Start today and apply for your Immigrant Visa Petition for Individuals with Extraordinary Ability! Order your kit now!
In this package you will find:
A complete set of forms that you will need to fill out for your Immigrant Visa for Individuals with Extraordinary Ability.
Glossary of terms for you to perfectly understand what is requested in every single line of the forms.
Description of the Extraordinary Ability Immigrant Visa: Immigrating to the United States. The Extraordinary Ability Category.
Requirements for the Extraordinary Ability Immigrant Visa.
Criteria Used to Prove Extraordinary Ability.
Inadmissibility for the Extraordinary Ability Immigrant Visa.
Step by Step - Extraordinary Ability Immigrant Visa Application Process.
Step by Step - Filling Out Forms.
Maintaining Status.
Frequently Asked Questions (FAQ) regarding the Extraordinary Ability Immigrant Visa.
Appendices:

Appendix A: Useful Websites
Appendix B: Steps in USCIS Petition Processing
Appendix C: Outline of Reference Letter
Appendix D: Outline of Petition Cover Letter
Appendix E: Sample Petition Cover Letter For Petition Filed by Employer
It is easy and quick! Order your package now!
Immigrant Visa Extraordinary Abilities