Labor Certification Application Guide Package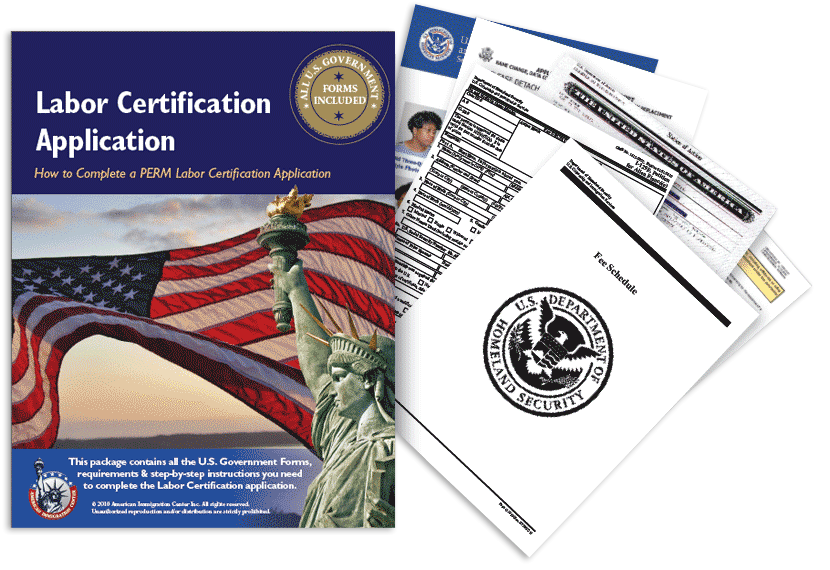 Start Application immediately.
Avoid mistakes: Easy step-by-step instructions.
New and updated Immigration Forms included.
Secure Download (All information protected).
Description
Labor Certification Application Guide Package
What is Labor Certification?
Labor Certification is the process by which an employer gets a certified Labor Certification application from the Department of Labor(DOL). This approval from the DOL certifies to the USCIS that there are no workers in the U.S. who are willing, qualified, able and available to take up the intended job opportunity at the currently offered wage and therefore it is being offered to a foreigner. It also certifies that job offer to a foreigner will not affect the wages or working conditions of U.S. workers who are in similar jobs.
The labor certification is required for employers who wish to bring foreigners to work temporarily or permanently in the U.S. Once they get a certified labor certification application, they will have to file a petition with the USCIS for a visa. Temporary employees maybe brought to the U.S. under various visa categories like H1-B, H1-C, H2-A, H2-B, etc. Foreign workers qualified for permanent employment are brought in as legal permanent residents or, if they are already in the U.S. in a different visa status, they can adjust their status to permanent residence.
There are certain employment green card categories that do not require labor certification. Immigration laws make labor certification compulsory for most categories to ensure that the opportunities, wages and working condition of U.S. workers are not adversely affected.
Apply for your Labor Certification in a few easy steps! Get your process approved, start today! Order your Labor Certification Application now!
Applying for an Immigration process by your own could be a very complex issue. But now you can successfully complete your application using this do-it-yourself package. Find the Government forms, requirements and step-by-step instructions for the entire process. Start today and apply for your Labor Certification Application! Order your kit now!
In this package you will find:
A complete set of forms that you will need to fill out for your Labor Certification Application.
Glossary of terms for you to perfectly understand what is requested in every single line of the forms.
Overview of the Labor Certification Process.
Requirements for Labor Certifications for both employer and employee.
Step by Step - The Labor Certification Process.
Step by Step Instructions for Completing Forms.
Employer Forms & Filing Procedures for Labor Certification Application.
ETA Form 9141, Application for Prevailing Wage Determination.
ETA Form 9089, Application for Permanent Employment Certification.
After the Labor Certification is Approved.
Frequently Asked Questions (FAQ) related to the Labor Certification Application.
Appendices:

Appendix A: Useful Websites
Appendix B: State Workforce Agencies by State
Appendix C: OES Checklist for Determining Wage Level
Appendix D: OES Worksheet for Determining Wage Level
Appendix E: Credential Evaluation Providers
Appendix F: Sample Notice of Filing
Appendix G: Sample Verification of Experience Letter
It is easy and quick! Order your package now!
Labor Certification Application Guide Package