Pass the US Citizenship Test and Interview DVD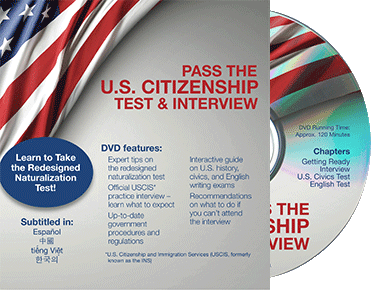 Official USCIS* practice interview-learn what to expect
Up-to-date government procedures and regulations
Interactive guide on U.S. history and English writing exam
Subtitles in Spanish, Chinese, Vietnamese, and Korean
Description
Pass the US Citizenship Test and Interview DVD
If you are contemplating the application for US citizenship, known that part of the application process is passing the US Citizenship Test and Interview. The United States Citizenship and Immigration Services (USCIS) office will administer this test to all permanent residents (Green Card holders) applying for citizenship. Submitting all the required USCIS forms for the successful completion of this process is imperative.
Once the citizenship application (Form N-400) is processed, applicants will be notified of the date scheduled for them to attend a naturalization interview. The interview will be conducted at the local USCIS office nearest to the applicant's location. At the USCIS interview, applicants should be prepared to answer questions regarding the N-400 citizenship application filed, as well as background questions. English language and civics sections will be part of the US citizenship test. Applicants are advised to review the history of the USA; citizenship can depend on it.
The US citizenship test includes 100 civics questions. Generally, applicants will be asked up to 10 questions from a list of 100 civics questions. In order to successfully pass the exam it will be necessary to answer at least six of ten random questions correctly.
The English language portion of the test has three parts: reading, writing, and speaking. An individual's ability to speak basic English will be determined by the USCIS officer conducting the interview. Applicants will be required to read aloud one of three sentences correctly for the reading portion of the exam. Applicants will be required to write one out of three sentences correctly as well.
This easy-to-understand multi-language DVD will help you pass the US Citizenship Test and Interview. It will provide you with great preparation tools for the US Citizenship Test and Interview. Immigration to the United States is a long journey, so always put your best foot forward.
Featured in the PASS THE NEW US CITIZENSHIP TEST & INTERVIEW DVD:
Subtitles in Spanish, Chinese, Vietnamese, and Korean
Sections on becoming a US Citizen and the US Citizenship process
Answers to questions about US history and government
Preparation for tackling interview questions
Information on what to expect during the US Citizenship Test and Interview
An official USCIS practice interview
An overview of current government procedures and regulations
An easy-to-understand interactive study guide for US history, civics, and English writing
Order your U.S. Citizenship Test and Interview DVD today!
Pass the US Citizenship Test and Interview DVD