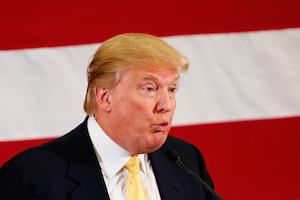 At a rally on Friday, in a football stadium in Alabama, controversial Republican presidential candidate Donald Trump reiterated his determination to get tough on illegal immigration if he wins the battle for the White House next year. Trump's controversial policies and stubborn refusal to back down in the face of widespread media condemnation have seen the real estate magnate rocket to the top of the presidential candidate list for the Republican Party.
At the rally Trump again stated that he wants to build a wall between the US and Mexico and put an end to the constitutional amendment that allows children born in the United States to be automatically granted citizenship, even if their parents are undocumented immigrants. "Very few places do it," Trump noted. "We're the only place just about that's stupid enough to do it."
The rally was moved from its former venue of a ballroom in a hotel to the football stadium, which can accommodate over 40,000 people, to cope with the expected crowd. Alabama Republican senator Jeff Sessions has endorsed Trump's much-debated immigration plan, telling the former reality TV star: "I'm really impressed with your plan".
Immigration has become the central tenet of Trump's campaign to win the Republican Party presidential nomination. The billionaire businessman says that if he wins the presidency in 2016, he will rescind the executive action taken by President Obama on immigration reform and deport all criminal undocumented immigrants.