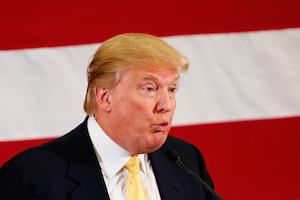 Real estate mogul Donald Trump entered the race for the Republican presidential nomination with a lengthy announcement yesterday morning, during which he vowed to dismantle the executive actions taken by President Obama on immigration reform, stated that he would build a great wall on the southern border of the United States, and described Mexican undocumented immigrants as "rapists".
"When do we beat Mexico at the border?" Trump, the 12th member of the Republican Party to have entered the race so far, asked the crowd at New York City's Trump Tower during his speech. "They are not our friend, believe me … The US has become a dumping ground for everyone else's problems … When Mexico sends its people, they are not sending their best. They are not sending you. They are sending people that have lots of problems, and they are bringing those problems to us. They are bringing drugs, and they are bringing crime, and they're rapists."
Trump went on to declare that the US administration is incompetent and has no protection against unwanted immigrants. If he is elected, he says, he would construct a great wall on the country's southern border and undo the deferred action programs created by President Obama via executive action.
Trump is notorious for attacking certain types of immigrants, having once said that only immigrants from Europe should be allowed to come to the United States. His stance is particularly ironic considering the 200 undocumented immigrants he paid to raze the former building on the site of the Trump Tower back in 1990, for which he was sued for the hiring and underpaying of the workers.