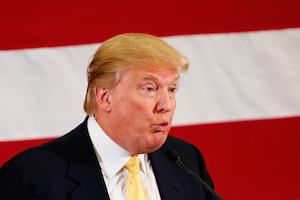 Donald Trump has taken yet another shot across the bows in the battle to win the Republican presidential candidate nomination next year, saying that all undocumented immigrants in the United States "have to go" during an interview on the NBC News show Meet the Press.
The 69-year-old billionaire, who has been leading the polls in the Republican candidacy much to the chagrin of many, has courted controversy due to his strong anti-immigrant stance. During an interview on his private plane with Meet the Press host Chuck Todd, Trump continued to refuse to back away from his views. He declared that he is determined to rescind the executive orders taken by President Obama on immigration reform, which would protect millions from deportation.
When challenged about whether his stance would mean splitting up families, Trump declared that he would keep families together but that those families would have to leave the United State, regardless of where they ended up. "We will work with them," Trump claimed. "They have to go. Chuck, we either have a country, or we don't have a country." He added that an entire "new set of standards" needs to be put in place with regard to immigration to the United States.  Despite the endless media condemnation for his controversial comments, Trump's popularity appears to have suffered no ill effect and he has maintained his leadership of the polls when it comes to the preferred Republican presidential candidate.