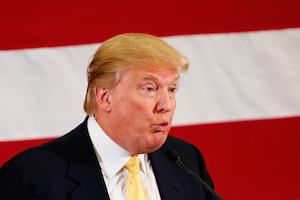 Donald Trump appears to be considerably more popular with the average American voter than with the mainstream media, with his stance on immigration appealing to more than just the expected hardcore conservative Republican base. According to a new national telephone survey from Rasmussen Reports, the majority of voters agree with the controversial real estate magnate that a wall should be built on the border between the United States and Mexico.
Although the figure supporting Trump's proposal is predictably at its highest among Republican voters, with 71% in favor, 17% against and 13% uncertain, most surprising is that 51% of all voters still support the idea. 92% of Republicans want to see undocumented immigrants with a criminal conviction deported from the United States, with just 4% against, and this number only falls to 80% among all likely voters, with just 11% objecting.
Both contentious proposals were made by Trump in a policy paper released last weekend in which he outlined the ways in which he would get tough on the issue of illegal immigration if he were to be elected president in next year's election.
Trump has cited a previous Rasmussen Reports survey to back up his call for birthright citizenship to be ended in the United States. 54% of voters were opposed to the policy, in comparison to just 34% who supported President Obama's recent executive decision to expand deferred action.