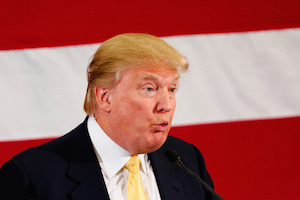 Republican presidential candidate nominee Donald Trump stormed to victory in the South Carolina primary over the weekend, scoring over ten points more than senators Marco Rubio and Ted Cruz, who finished in second and third place respectively. Trump won 33 percent of the vote in a finish that could end the campaign of Cruz, who scored 27 percent, to get to the White House.
Trump's controversial stance on US immigration has earned the scorn of everyone from political rivals in the Republican and Democratic parties to the mainstream media, and last week even the Pope; however, his message has continued to resonate with Republican voters despite the best efforts of his political enemies. Even the elites in his own party have been desperate to stop the controversial real estate mogul from winning the nomination, yet his assent now looks unstoppable.
One of the policy ideas that caused Trump the most grief in the media was the notion of banning further Muslim immigration to the United States; however, 74 percent of Republican voters in the primaries – even those who voted for a different candidate – supported the idea. 20 percent of those who agreed with the idea voted for Marco Rubio rather than Trump, with Rubio going even further than his rival by suggesting the banning of any Muslim meeting places.
Trump, perhaps oddly, seems to appeal to a wide spectrum of Republican voters across all demographics, with no particular gaps in support among women or differing age groups; even college-educated Republicans have shown the maverick billionaire their support.