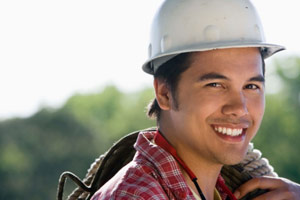 An Employment Authorization Document (EAD), also known as a "work permit", is issued by United States Citizenship and Immigration Services (USCIS), allowing the holder to legally work in the United States. In order to obtain an EAD card, a foreign national must file form I-765, Application for Employment Authorization with the USCIS.
Some foreign nationals who are temporarily in the U.S. may request employment authorization document. An EAD card is issued for a specific period of time based on alien's immigration status. Individuals who possess a valid EAD are authorized to freely work in the United States without their employer having to file a non-immigrant worker petition. An EAD card is issued for a specific period of time based on depending on the foreign national's immigration status.
NOTE: Foreign nationals with an EAD can lawfully work in the United States for any employer. If you are authorized to work for a specific employer, then you do not need an EAD
Individuals may file Form I-765 for the following reasons:
Renewal of an EAD - Your previous EAD is about to or has expired.
Replacement of an EAD - Your previously issued EAD has been lost, destroyed or your card has incorrect information on it.
Interim EAD - This EAD is granted for a designated period of time, not to exceed 240 days. An interim EAD is an eligible applicant when USCIS has failed to approve an application within 90 days of receipt of a properly filed EAD application or within 30 days of a properly filed initial EAD application based on an asylum application.
It is also important to identify which category applies to you when filing form I-765 for EAD. The categories include:
Asylee/Refugees
Nationality
Foreign Students
Employment-Based Nonimmigrant
Family Based Nonimmigrant
EAD Applicants who have already filed for Adjustment of Status
Carefully read the instructions included with your online form I-765 with regards to the necessary documents that you need to include to have a complete application. Preparing the EAD application form I-765 online will ensure you have successfully completed the process and will be able to legally work in the United States!
Our Application Package includes all the forms you need to send to the USCIS for processing. It also includes personalized filing instructions that tell you exactly how to properly file your application with the USCIS. Application Package Fee: $180. USCIS Fee: $380 (Exceptions available for some application reasons). Biometrics Fee: $85 (Exceptions available for some application reasons).