Green Card for Family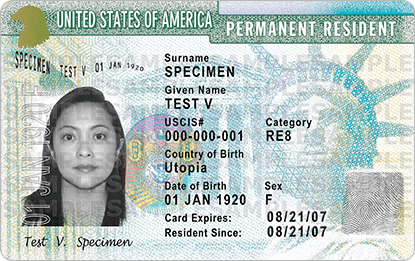 Family members of US citizens and permanent residents are eligible to be sponsored for permanent residence in the United States. Persons who have been granted permanent resident status in the United States are given a Green Card as proof of their status. There are several ways to get a US Green Card, the most common one being through family sponsorship.
Family-Based Green Card
A US citizen's spouse, unmarried children under the age of 21, and parents are referred to as "Immediate Relatives." The other relatives of US citizens -- unmarried children over the age of 21, married children of any age, and siblings (when the US citizen sponsor is above the age of 21) all fall under what is referred to as the "family preference category."
One of the simplest ways toget a Green Card is an immediate family member of a US citizen; the process comparatively straightforward and short. As soon as a petition by the US citizen sponsor is approved, a visa number is available and the beneficiary can apply for a Green Card. Persons in the preference categories have to wait for a visa number to become available, which happens only when their priority date becomes current. The priority date is the date on which the sponsor filed the petition for a family Green Card. The status of the priority date can be checked on the visa bulletin that is issued monthly by the Department of State.