Disclaimer: US-Immigration.com is not a government agency. If you are just looking for forms, you can get them from the USCIS.gov website for free. US-Immigration.com does not sell USCIS forms. We provide a complete and easy to use online immigration software solution.
We are not a law firm nor a substitute for the advice of an attorney. Our customer support is for technical and billing issues, and will not answer legal questions or give legal advice. The
REFUND POLICY
is found in our Terms of Use.
Purchase price does not include any applicable government filing fees.
We help you complete your application quickly and accurately, provide 24/7 customer support, and automatically generate all the forms you need for your application - ready to submit to the USCIS by you.
GREEN CARD RENEWAL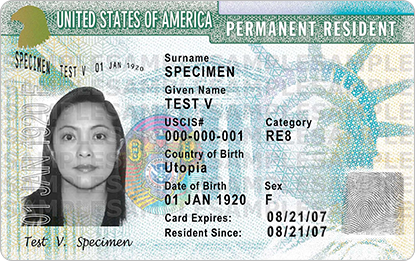 Understand the Process for the Green Card Renewal or Replacement Application (Form I-90):
Individuals with expired Green Cards are required to submit the Green Card Renewal Application Form I-90 as soon as possible. A Green Card is valid for 10 years.
It is important to remain aware of a Green Card's expiration date. Without a valid Green Card, it can become difficult to work or travel.
It is generally recommended that the Green Card Renewal Form I-90 be filed within 6 months of the expiration date. The expiration date is located on the front of the Green Card. Filing your Green Card renewal application within 180 days of the expiration date will prevent a delay in receiving your renewed Green Card; the application for renewal should be filed in a timely fashion.
If the front of a Green Card does not show an expiration date, it might be because it is an older version of the Green Card that is, in most cases, no longer valid. Renew your Green Card to receive a current one.
The Green Card Replacement Application Form I-90 should be used if your information needs to be changed, or if your Green Card has been lost, stolen, destroyed, or damaged.
If you were issued a Green Card before you turned 14 years of age, you will be required to replace your Green Card upon turning 14 years old.
If your Green Card expires while outside of the United States and you did not file a renewal prior to your departure from US soil, it is recommended that you contact the nearest US consulate, USCIS office, or US port of entry before filing your Green Card Renewal Application Form I-90.
The USCIS processing time for Green Card renewal or replacement is approximately three to four months.
Don't get lost, whether you're trying to renew your Green Card or attempting to figure out how to get a Green Card -- our resource materials can guide you.
Our Application Package includes all the forms you need to send to the USCIS for processing. It also includes personalized filing instructions that tell you exactly how to properly file your application with the USCIS. Application Package Fee: $170. USCIS Application Fee: $365 Biometrics Fee: $85.