How Many Immigration Applications Are Filed Each Year?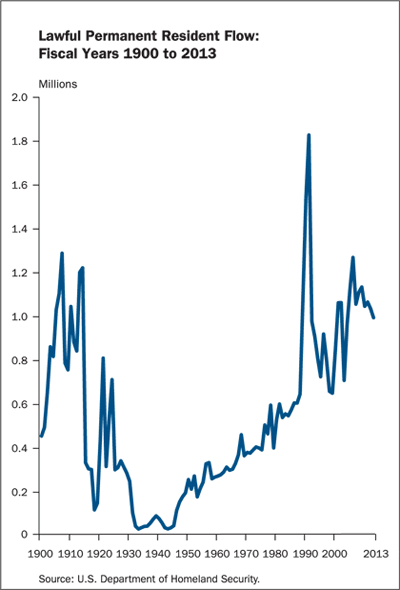 Each year, the USCIS receives and processes about 6 million immigration applications from individuals and employers. Most applicants request one of the following: permission to permanently live in the U.S., permission to temporarily work in the U.S. or naturalization as a U.S. citizen.
Green card applications
Lawful permanent residents (LPRs or "green card holders") have permission to permanently live and work anywhere in the U.S., and they can attend public schools and own property.
The Arizona Republic reported that in November 2012, more than 4.4 million applicants were still waiting for green cards. Of those, 1.3 million were in Mexico. Counting applicants already living in the U.S., experts estimated up to 5.5 million green card applications were pending at the close of 2012.
According to the Department of Homeland Security (DHS), in 2013, the U.S. issued green cards to nearly 1 million applicants. Most of the approved applicants lived in the U.S. when they applied (54 percent) and were allowed to permanently live in the U.S. based on a family relationship with a U.S. citizen or another green card holder (66 percent). The leading countries of birth for new green card holders were Mexico (14 percent), China (7.2 percent) and India (6.9 percent).
Since the year 1820, the U.S. granted slightly more than 1 million applicants permanent residence during each year of the following periods:
1905-1907
1910
1913-1914
1989-1991
2001-2002
2005-2012
During every other year, less than 1 million applicants were welcomed as lawful permanent residents. In 1999, the U.S. approved approximately 645,000 permanent resident applications. That year rivaled turn of the century rates. For example, nearly 670,000 applicants were granted permanent residence in 1881, and about 649,000 applicants were granted permanent residence in 1902.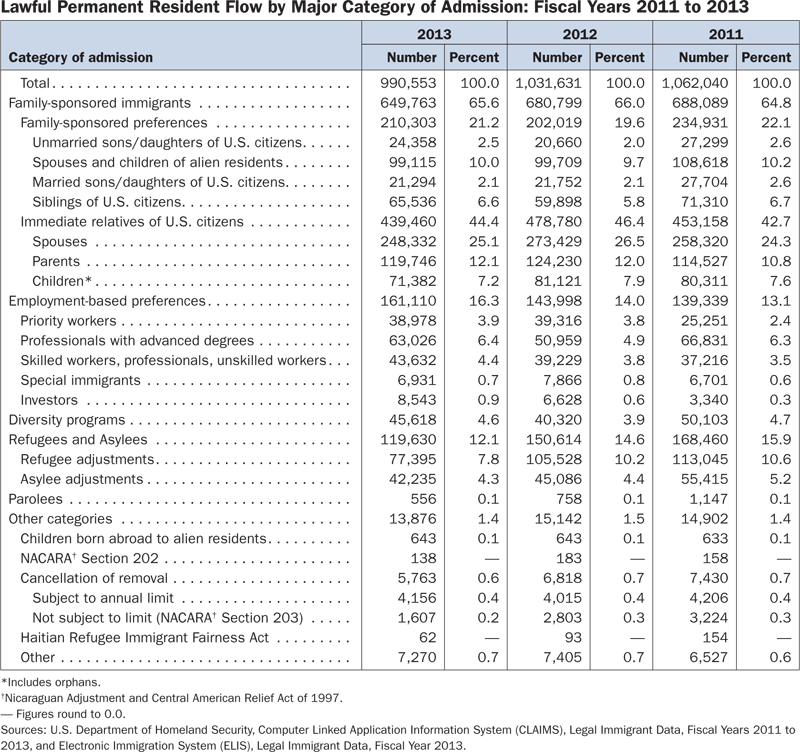 Temporary worker applications
Employment-based visas allow foreign workers to live in the U.S., and the employer usually files the application.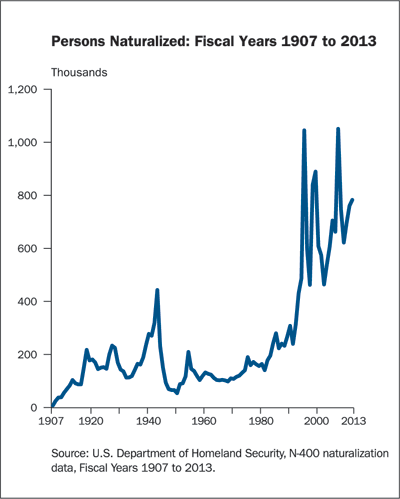 One employment-based visa is the H-1B, which allows foreign workers in "specialty occupations" (math, engineering, law, architecture, advertising, etc.) to temporarily work in the U.S. In 2013, approximately 124,000 H-1B petitions were filed, and 134,000 were filed in 2012. One immigration expert estimated the USCIS will receive at least 160,000 applications in 2014 for the 85,000 available H-1B visas.
An employer can help a foreign worker live permanently in the U.S. by filing an EB-2 visa application on the worker's behalf. The EB-2 is granted to professionals with advanced degrees (or general degrees with at least five years working with increasing responsibility), as well as to professionals with exceptional ability in science, art or business.
Before an employer can apply to the USCIS for any visa on a worker's behalf, the employer must submit their own Labor Certification Application (LCA) to the U.S. Department of Labor. Employers who have filed the most LCA to date in 2014 include the following:
Infosys—32,379 applications, with an average salary of $76,494
Tata Consultancy Services—8,785 applications, with an average salary of $66,113
Wipro—6,733 applications, with an average salary of $69,953
Deloitte Consulting—6,165 applications, with an average salary of $98,980
IBM—5,839 applications, with an average salary of $87,789
Naturalization applications
Individuals who are not U.S. citizens by birth can obtain nearly all the same benefits and responsibilities of U.S. citizenship through the process of naturalization. Nearly 780,000 natives of other countries were naturalized as U.S. citizens in 2013.
Asylum applications are also among the 6 million applications processed annually by USCIS. In 2001, the U.S. approved about 39,000 asylum applications. Asylum application approvals have consistently decreased since then, with a low of around 21,000 in 2010. The U.S. approved about 29,000 asylum applications in 2012.