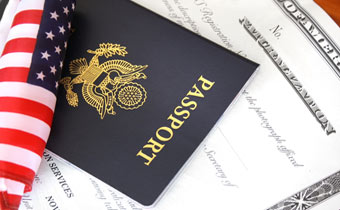 Children can be granted U.S. citizenship under several categories
The child is born in the U.S.
At least one parent is a U.S. citizen
Naturalization of the parents
Naturalization of the child
Learn how to apply for citizenship for a child under each category.
Children born in the U.S. are automatically granted citizenship. The child remains a U.S. citizen unless they choose to renounce their citizenship.
If one or both parents are U.S. citizens, then the child becomes a U.S. citizen (even if the child was born outside the U.S.) through acquired citizenship. The simplest way is give a child of U.S. citizen parentage U.S. citizenship is to register the birth abroad. This can be done until the child is 18 years of age. If the child is older than 18, he/she must apply to adjust status or for an immigrant visa.
A U.S. passport or Certificate of Citizenship provide proof of the child`s citizenship.
If one or both parents are naturalized as U.S. citizens, then the child gets derived citizenship if:
The child is under 18 years of age
The child has a green card
The child is living with the naturalized parent(s)
If the child is over 18 years of age, he or she may apply for a green card as an immediate relative of a citizen. After five years as a permanent resident, he/ she can naturalize.
Two passport-style color photographs of the child
Copy of the child's green card
Birth Certificate of child
Parent's marriage certificat
Proof of U.S. residence
Copies of any other documents required
Once the USCIS has processed the application, the parents will receive a letter informing them of the place and time to bring the child to complete the naturalization process.