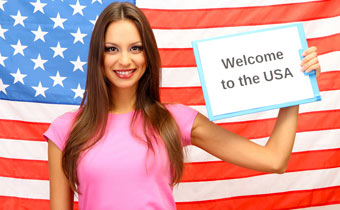 Non-immigrants are those who are visiting the U.S. for a specific reason and for a short period. Visas issued to them are termed non-immigrant visas and are issued by the U.S Department of State. The period of stay depends on the type of visa issued, since there are different categories of non-immigrant visas available. Then maximum period of time that you can stay in the U.S. can be determined from the I-94, Arrival-Departure Record, or I-94W, Nonimmigrant Visa Waiver Arrival-Departure Record.
A passport-style photo will need to be uploaded as a part of the application process.
In some cases, the applicant may wait to pay until the visa interview.
The confirmation page will need to be presented at the visa interview.
Generally, only applicants between the ages of 14 and 79 are required to attend an interview.
Passport valid for at least six months past the period of intended stay in the U.S.
Non-Immigrant Visa Application, Form DS-160 confirmation page
Application fee payment receipt (if required to pay before the interview)
Evidence to prove that the applicant can support themselves financially during their time in the U.S.
Evidence that the applicant intends to leave the U.S. at the end of their stay (such as proof of property or family ties in his/her home country)
During the interview, the consular officer will decide if the applicant qualifies for the visa.