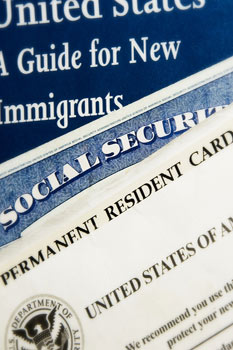 A green card is an authorization for immigrants to live and work permanently in the United States of America. There are two ways to get a green card, one is when the applicant is outside the U.S. and the other is when the applicant is living in the U.S. If you are not currently in the U.S. on a valid visa, you have to go through consular processing. However, if you are in the U.S. on a valid immigrant visa, you have a choice to either go the consular route or file for adjustment of status (by filing form I-485, Application to Register Permanent Residence or Adjust Status).
The following steps will outline the details on who will be eligible to apply for a green card, and the process for individuals outside the U.S.
You are married to a U.S. citizen, or if your sons/daughters/siblings are U.S. citizens.
You possess extraordinary skill in science, arts, education, sports or business.
You are a religious worker or a minister.
You make an investment of half a million to a million U.S. dollars.
You are a refugee or an asylee living in the U.S.
If applying through a family member, they will have to file the I-130, Petition for Alien Relative, on your behalf.
If applying as a worker, the employer must file the I-140, Immigrant Petition for Alien Worker, on your behalf. There are several employment-based categories to apply, like EB1-EA, EB2-NIW, or EB5.
If you are an investor, you must file the I-526, Immigrant Petition by Alien Entrepreneur.
Once your petition is approved, you will be required to appear at the U.S. consulate or embassy to complete your application.
Consult a doctor approved by the consulate to take all necessary immunizations and get certified that you are free from any communicable disease.
You will be interviewed at the consulate to decide if you are eligible for an immigrant visa. If you are found to be eligible, you will be given a Visa Packet that must be opened only by the Customs and Border Protection officer at the port of entry. You will receive your green card within 30 days of your arrival in the U.S.