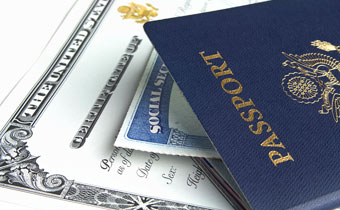 The following documents serve as proof of U.S. citizenship:
Certified U.S. Birth Certificate
Report of Birth Abroad
Certificate of Citizenship
U.S. Passport
Only persons born in the U.S. can get a U.S. birth certificate. Generally, birth certificates are issued at the hospital where the child is born. If the child is not born in a hospital, the parent(s) may request a certified birth certificate from the state where the child was born.
If a child is born to U.S. citizen parent(s) outside of the U.S., the parent(s) can file for a Report of Birth Abroad. The child must be under 18 years of age.
To apply for a Certificate of Citizenship, the U.S. citizen must (one of the following):
Have been born outside the U.S. to U.S. citizen parents
Have been automatically granted citizenship before the age of 18
To apply, file Form N-600 with the USCIS and receive a Certificate of Citizenship in the mail.