Dual Citizenship in United States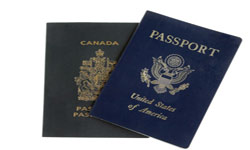 If you want to become a US citizen, you may still feel great ties to your country of origin. You may not want to give up your roots and there may be practical reasons for not wanting to give up all ties to your homeland. If you travel to your original country to visit family, for example, holding onto your citizenship for that country can make travel easier. Luckily, the US does permit dual citizenship, which allows you to enjoy the full benefits of US citizenship while also enjoying the benefits of your original citizenship. The first step is to ensure that your home country permits dual citizenship. If it does, you will then need to:
You can do this by filling out the latest citizenship application form. Generally, you will need to be a US permanent resident and meet other requirements to apply. The requirements and application process can be complicated, which is why the application guide is so useful. It contains the detailed explanations and information you need as well as the latest forms you need to start applying for dual citizenship today. Avoid mistakes and lengthy delays in your application - the guide can help you get your application filled out correctly.
To achieve dual citizenship, you will need to attend an interview. This interview is with a USCIS officer and tests your eligibility to become a US citizen. It can be very frightening to meet with an official and to be asked many complicated questions. The U.S. Citizenship Exam and Interview Guide DVD] can help you get prepared for this portion of the application process so that you are prepared to enjoy dual citizenship. This DVD is in English and allows you to test your English skills as well as your interview skills with tips, examples, and sample questions and answers.
The news is full of information about the latest USCIS changes as well as the latest US immigration laws. However, it can be confusing to try to find all the latest information from numerous media sources. The US-Immigration.com news and information section assembles the latest facts and news that is relevant for you, so that you can enjoy a one-stop resource for the facts about immigration reform and immigration changes.
After your interview, you will also need to pass the citizenship test, which tests your English skills as well as your knowledge of US government, civics, history, and society. There is a great deal to learn and some applicants feel very nervous about the test, especially if they have never attended a US school to learn these subjects. The U.S. Citizenship Exam Guide AUDIO CD in English and the U.S. Citizenship Exam Guide AUDIO CD in Spanish can help you learn these subjects in your spare time so that you are ready to pass your naturalization test.