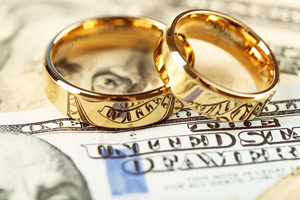 Jason Shiao, 65, and Lynn Leung, 43, who have orchestrated more than 70 fraudulent marriages were recently arrested. The father-daughter team got large sums of money from Chinese nationals looking to gain permanent resident status in the U.S. They then paired them with homeless U.S. citizens who are desperate for money. The duo charge as high as $50,000 from their clients to conduct fake marriages.
U.S. Immigration and Customs Enforcement (ICE) launched an undercover investigation in 2014 after the agency was alerted to the crime by an anonymous informant. The agency sent an informant to pose as a Chinese citizen in need of a U.S. green card. Shiao, who posed as an immigration attorney, told the informant that the charge for the wedding will be $10,000. The informant was asked to pay $10,000 for Shiao to be his lawyer and for other steps involved. What the informant had to pay amounted to more than $43,400
The informant was not allowed to communicate with his new wife. When the informant met his future wife, Shaio told them that they could get married soon. They were married after a month. The fake marriage also included a fake honeymoon. However, Shaio did not allow them to live together.
Shiao and Leung had a fake law firm named Zhengyi & Associates. The two posed as attorneys when they really are not attorneys. They had staged many such fake weddings. They were well aware of the immigration process so they were able to complete photo shoots and taught the couple how they must behave at their immigration interview for their weddings to appear legitimate. Those getting married were asked to memorize personal information about each other. The pair also created fake marriage certificates, tax returns, bank statements, etc.  While some fraudulent marriages took place in the U.S., some were staged in China. Their advertisements in a Chinese-language newspaper helped them attract desperate Chinese nationals. The duo was helped by Mendoza who helped them recruit U.S. citizens to take part in false weddings.
The father-daughter team that had been living a lavish life has now been charged with visa fraud. If convicted, they might face up to five years in prison. There are many looking to get married to U.S. citizens for green cards. Thomas Mayer, a San Gabriel immigration lawyer, says that many approach his office requesting him to help them get a green card through marriage. His office is normally visited by a foreign national and a U.S. citizen or just a foreign national who requests him to help him or her find a pair through whom he or she can get a green card. He said that nationals of China, Latin America, Vietnam and South Korea visit his office in more numbers making such requests. Mayer generally advises such people that it is against the U.S. immigration laws to get married for immigration purposes.
This is something that foreign nationals seeking to settle in the U.S. need to be aware of. They will be fined and imprisoned if convicted of marriage fraud. The best way for those who do not have relatives to immigrate to the U.S. is through Green Card lottery also known as the Diversity Visa lottery. If America is their dream land, they can try their luck by participating the lottery program through which they would likely get a chance to win a green card.