Mexican brownies are fudgy and delicious. The added spices, cinnamon, and cayenne work magic when combined with chocolate and add a warm spiciness to these chocolate brownies. These are the two ingredients that make these brownies "Mexican."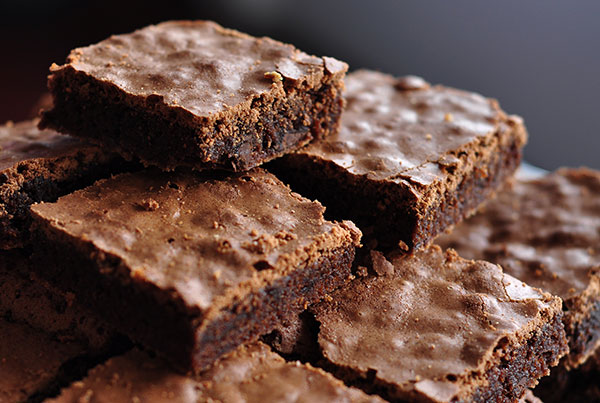 Ingredients for Brownies:
1 ½ cups sugar

3 eggs

1 cup unsalted butter

1/2 teaspoon vanilla extract

3/4 cup unsweetened cocoa powder / 3 ounces chopped unsweetened chocolate

1 cup all-purpose flour

½ teaspoon ground Mexican cinnamon (canela)

1/4 teaspoon pequin chili powder or cayenne pepper

1/4 teaspoon kosher salt

1/2 teaspoon baking powder
Ingredients for Topping:
½ cup almonds, chopped

1 tablespoon unsalted butter

¼ cup whipped cream

½ spoon vanilla extract

¾ cup brown sugar
Directions:
Over low heat whisk butter until it is about half melted. (If chopped chocolate is used, add it to the butter and melt the two together.)

Remove from heat and add sugar to the bowl and mash until it is well combined with the butter.

Stir in eggs one at a time and then add the vanilla extract.

Continue to whip until the batter turns smooth.

Using a sifter, sift the flour, cocoa, pepper, cinnamon, and salt. (Skip cocoa powder, if chopped chocolate has been whisked with butter and sugar.)

Mix these ingredients with the butter, eggs, and sugar mixture.

Stir well and pour into the baking pan lined with parchment paper. Make sure the paper extends over the sides of the pan.

Bake in the oven preheated to 350 degrees F for around 20 minutes.

Insert a toothpick into the center to check if the brownies are baked. If the toothpick comes out with fudgy crumbs, it is baked.

Once it had cooled completely, remove brownies from the pan.
For Topping
Over low heat, whisk sugar, cream and butter until it turns smooth. Mix in vanilla and cool for around 10 minutes. Whisk until the mixture turns smooth enough to spread over the brownie. Sprinkle chopped almonds and let it set for an hour.
Cut the brownies into the desired size and serve.
Keep track of our
immigration blog
for more recipes.