Creamy Poblano Rice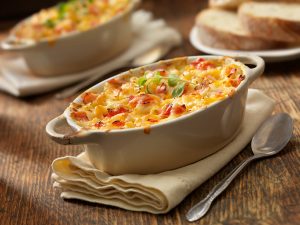 Creamy Poblano Rice tastes great with peppers and the cheese makes the dish delicious.
Ingredients:
1 tsp of vegetable or canola oil

2 cups long grain or short grain white or brown rice, uncooked

1 1/2 tsp of kosher salt or 1 tsp. regular table salt

3 tbs butter

2 cups of water

1 garlic clove, minced

1/2 tsp black pepper

3 fresh poblano peppers – roasted, skinned, seeded & diced into small pieces

1 cup sour cream

1/2 cup Cilantro, fresh

1/2 cup Scallions, finely chopped

1 1/2 cups grated Monterey jack cheese, cheddar or Mozzarella cheese

cayenne pepper, to garnish
Directions:
Heat oil in a skillet and add chopped scallions and poblano peppers. Cook for two minutes. Transfer to a dish and keep aside.
Heat remaining oil and add rice. Stir often until some of the rice grains turn lightly brown. Make sure not to break the grains whole stirring.
Add water and salt and keep stirring. Place the lid and let the rice cook for around 25 minutes. (This step can be skipped if the rice is already cooked.)
Combine cooked rice with sour cream, poblano peppers, garlic and one cup of grated cheese of your choice.
Throw in some black pepper and cayenne pepper
Put seasoned rice in a buttered oven safe dish. Top it with the remaining cheese and bake in an oven preheated to 350 degrees, until the cheese on top melts.
A variety of ingredients like chicken, green peas, carrots or shrimp can be added to this to jazz up the flavour of Creamy Poblano Rice.
Garnish with chopped cilantro and serve.
Buen provecho!