Strawberry Beer Margarita
Strawberry Beer Margarita can easily be made at home with fresh strawberries. However, fresh strawberries can be replaced with frozen ones if strawberries are not in season!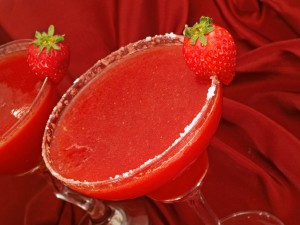 Ingredients:
1 cup ice cubes
1 pound fresh strawberries, hulled
1/4 cup of light Mexican beer, try Corona Light or Negra Modelo
2/3 cup lime juice, freshly-squeezed
6-8 shots tequila
kosher salt, for rimming glass
lime wedges and fresh strawberries to garnish
Directions:
Pour tequila over fresh strawberry chunks in a bowl and marinate in refrigerator for about two hours.
Whip up strawberries and tequila in a blender until completely smooth.
Strain to remove seeds.
Add lime juice and beer to the strained berry mixture and stir.
Skim off foam that develops on top and let the mixture sit for around three minutes.
Serve with ice cubes and extra tequila or honey.
Serve margarita in margarita, cocktail or wine glasses. Don't forget to garnish glasses with lime wedges and strawberries.
Add more taste to the margarita by serving it in salt-rimmed glasses. Just run a lime wheel around the top of the glasses and dip the glasses in a bowl of coarse kosher salt.
*Another way to serve Strawberry Beer Margarita is by filling up the glasses with shaved ice and pouring margarita over the ice.
Strawberry Beer Margarita can be prepared in less than five minutes flat (aside from the time taken to marinate). This cool drink is a perfect treat to quench a summer thirst. Enjoy warm summer evenings with refreshing Strawberry Beer Margaritas!
Keep track of our immigration blog for more interesting Hispanic recipes.