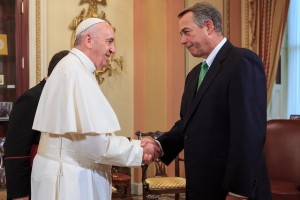 Pope Francis, in his historic address to the U.S. Congress, referenced immigration, gay marriage, abortion, and death penalty. He addressed a joint meeting of the Congress, the first Pope ever to do so. He was invited to address the lawmakers by House Speaker John Boehner. Being a native Spanish speaker, he addressed the U.S. Congress in English reading from the remarks he had prepared.
The Pope told Congress that the country must treat refugees, the homeless and immigrants with compassion. He said, "Do unto others as you would have them do unto you." Rather than seeing the refugees by numbers, he wants the country to view them as persons by listening to their stories. He added that the country must respond to their situation in a way which is humane and just.
Pope Francis said that he is happy that America still continues to be "a land of dreams" for many. Millions of people come here to build their future in this great nation. He concluded by saying, "We, the people of this continent, are not fearful of foreigners, because most of us once were foreigners." The Pope said that he himself comes from an immigrant family. The Pontiff's speech brought tears to the eyes of Republican Speaker of the House, John Boehner, a Catholic and a former altar boy, and Senator Marco Rubio (R-Florida), son of immigrant parents.
While many expected the Pope to only address immigration and climate change, he also hit upon a variety of other issues including armed conflicts. While Pope Francis did not mention abortion by name, he spoke about the need to "defend human life at every stage of its development." Stating that every life is sacred, he called for respect for all lives. He also indirectly referenced to same-sex marriages when he spoke about the importance of the family.
Pope Francis in his speech to the decision makers of the world's most powerful country, praised four great Americans for their deeds. Abraham Lincoln, Martin Luther King Jr., Catholic social justice worker Dorothy Day and Cistercian monk Thomas Merton are the four Americans he mentioned repeatedly throughout his speech. He called on Americans to embrace immigrants and refugees from Latin America and other parts of the world.
House Speaker John Boehner, who put the Senate immigration reform bill on hold and a strong opponent of immigration reform, was seen crying again after the Pope's speech. "Will the Speaker, moved by Pope Francis' speech, support immigration reform?" is the question of many now.
However, The Atlantic's Russell Berman says Boehner wants to deal with issues related to immigration and budget deficit. He also has written that the inaction on the Senate immigration bill has more to do with the internal politics within the Republican party and nothing to do with the personal interests of Boehner, in a recent article about the Speaker.