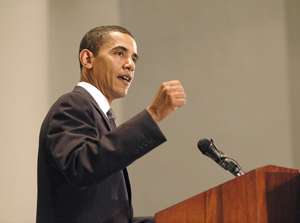 President Obama signed two presidential memoranda associated with his executive actions on immigration on Friday, upon landing in Las Vegas. He signed the policies aboard Air Force One before traveling to the Del Sol High School, according to Washigtimes.
The first memorandum, "Modernizing and Streamlining the U.S. Immigrant Visa System for the 21st Century" he signed will direct immigration agencies to find out ways to better improve the U.S. visa system so that it makes use of the government resources more effectively and prevents fraud. The memorandum requires the federal agencies to come up with recommendations within 120 days of signing it. The second memorandum signed by the President creates the "White House Task Force on New Americans." The goal of this task force is to help new Americans contribute to the country's economy and their communities.
President Obama then traveled to the Del Sol High School in Las Vegas, the same place where he spoke about the need for immigration reform around two years ago. He spoke about his decision to take executive action and offer more than four million undocumented immigrants a chance to apply for temporary legal status and work permits. Astrid Silva, an undocumented immigrant and college student who the President mentioned in his speech introduced him. Obama, in his speech said that the part of the nation that makes it exceptional is that it welcomes people like Astrid. He said that it makes the country stronger, dynamic and vibrant.
He said that he would have signed the Senate immigration reform bill if the House of Republicans had passed it. He reiterated that he will work with the U.S. Congress to come up with a comprehensive reform bill. Until the U.S. Congress comes up with a permanent solution, he stated that he will take actions using his executive authority to make the country's immigration system work better.