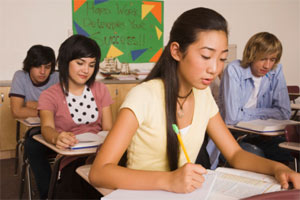 To request consideration for Deferred Action for Childhood Arrivals (DACA), undocumented youth in the U.S. must submit Form I-821D, Consideration of Deferred Action for Childhood Arrivals. The U.S. Citizenship and Immigration Services (USCIS) will accept these forms filed by eligible youth, only if their forms are filled out accurately and properly signed. Form I-765, Application for Employment Authorization and Form I-765WS, Form I-765 Worksheet, must accompany the application for deferred action status.
Applicants must not fail to file these two forms along with Form I-821D and if they fail to do so, their requests will not be considered. Though there is no filing fee for Form I-821D, Form I-765 for employment authorization documents must be filed along with the fee of $380. Apart from that. the applicants need to pay the fee for biometrics services. Hence, applications for deferred action status must be filed with a total fee of $465.
Supporting documents to establish that they are eligible for this temporary status without which USCIS may not be able to decide on their cases, must be submitted. Requests for DACA cannot be filed online and applicants must file paper forms to request this temporary status.
After they file their applications, USCIS will send them receipt notices confirming that their applications have been accepted. However, USCIS will send them receipt notices only after determining that their requests are complete. Followed by that, they will be sent appointment notices to visit Application Support Centers to submit their biometrics information. Without fail, they need to attend their biometrics appointment. Applicants must follow the instructions on the notices they receive. Cases of applicants who fail to show up for their biometrics appointment will be delayed or even denied.
Requests for deferred action status will be reviewed on a case by case basis. USCIS will require the applicants to appear at USCIS offices or require them to submit additional supporting documents if the agency needs more information to process their applications.
USCIS will notify the applicants in writing of its decision. If the agency approves their applications, they can remain in the U.S. legally for two years and work here without fear of deportation. USCIS will also notify the applicants whose requests have been denied. However, there is no appeal or motion to reopen denied cases.