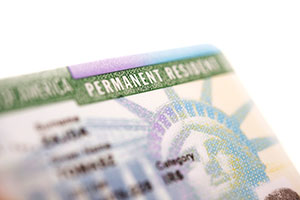 U.S. Citizenship and Immigration Services (USCIS) is redesigning permanent resident cards and Employment Authorization Documents (EAD). The agency will start issuing the redesigned cards from May 1, 2017.
Redesigning of these cards is a part of the Next Generation Secure Identification Document Project. The new cards will have fraud resistant security features and enhanced graphics. These new features listed below will make the cards highly secure and tamper-resistant.
The new cards will display the card holder's photo on both sides of the card.

Redesigned cards will have a unique graphic image. Green cards will have predominantly green palette with an image of the Statue of Liberty and EADs will have a predominantly red palette and an image of a bald eagle.

Signatures of the holders will not be printed on these cards. The new cards will have embedded holographic images.

New green cards will not have the optical stripe on it.
Though the immigration agency has announced that it will start issuing the redesigned cards from May 1, 2017, some cards issued after this date may still have the old features. USCIS will start issuing the redesigned cards after it runs out of the existing card stock. The new cards and the existing cards will remain valid until the expiration dates printed on the cards.
The new and old versions of the cards are acceptable for Form I-9, Employment Eligibility Verification, E-Verify, and Systematic Alien Verification for Entitlements (SAVE). According to USCIS, older green cards without expiration dates will remain valid. However, those who hold such cards are advised to apply for green card renewal and get fraud resistant new cards with expiration dates.
Renew expired green cards by filing Form I-90, Application to Replace Permanent Resident Card
Get EADs (U.S. work permits) by filing Form I-765, Application for Employment Authorization