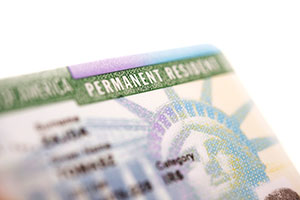 U.S. Citizenship and Immigration Services (USCIS) assigns unique identifying numbers known as Alien Registration Numbers to non citizens when they apply for permanent resident status in the U.S. Alien Registration Numbers, also known as A-Numbers are usually seven-, eight- or nine-digit numbers. These numbers are assigned to non citizens when the USCIS creates their A-files. A-Numbers are printed on the front and back sides of permanent resident cards.
People who do not hold green cards can find their A-Numbers on their Employment Authorization Cards also known as work permits and on Form I-797, Notice of Action. Alien Registration Numbers are not assigned to nonimmigrants who come to the U.S. temporarily. These numbers are assigned only to immigrants who apply for permanent resident status.
Green cards are official documents that are issued to those who have been granted legal permanent resident status in the U.S. These are identification cards that help immigrants prove that they hold legal status in the country.
Green cards will have the holder's personal information like their name, date of birth, country of birth and sex. It will also have the date on which permanent residency was granted to the holder and the date on which it will expire. This card will also have the Alien Registration Number also known as the USCIS #.
Nonimmigrants are neither issued green cards nor assigned A-Numbers. Nonimmigrants just come here to stay here temporarily for business or tourism. Likewise, student visas are also temporary visas. Those coming here for a temporary stay will not be assigned Alien Registration Numbers. That is because nonimmigrant visas are not permanent and holders of these visas can stay here only for a certain time period.
Nonimmigrant visas are printed on the passports of citizens of foreign countries who are permitted to come to the U.S. These visas will have the holder's name, date of birth, sex, the name of the country where the visa was issued, visa issuance and expiration date, visa type, and the nonimmigrant number.