Trump Defends US Immigration Enforcement Raids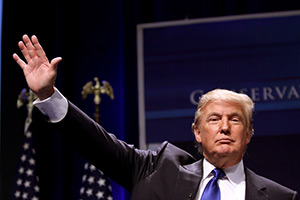 President Donald Trump has defended the large scale immigration raids that were carried out, claiming to fulfil his campaign promises on cracking down criminal immigrants. However, immigration advocates and the Democrats are against the executive order issued by the President and have slammed his raids. Stephen Miller, one of President Trump's presidential aides, told that that the administration is looking to pursue their immigration policy.
New Powers for US Agents day in Canada
The Liberal government's new bill would grant U.S. border guards operating on Canadian soil more powers to question, search, and also hold Canadian citizens in detention. This bill, named Bill C-23 is more likely to pass in the Parliament's current sitting.
Trudeau Refuses to Judge US Immigration Policy
Canadian Prime Minister, Justin Trudeau and U.S. President, Donald Trump, in their recent meeting, talked about unique nature of the relationship between the two countries. They also talked about the importance of continued trade between the U.S. and Canada across a shared and secured border. Many expected the Canadian Prime Minister to comment on President Trump's recent executive order on immigration, which did not happen.
US Immigration Raids Arrest Over 680
In the recent immigration raids in the U.S., more than 680 undocumented immigrants, most of them who were convicted on criminal offences were arrested. Crimes for which they were arrested ranged from homicide to drunk driving.
Rise in US Citizenship Applications
According to immigration activists and organizations conducting citizenship workshops, the demand for help with U.S. citizenship applications has increased. Several green card holders in South Florida are attending citizenship workshops and want to obtain citizenship. The interest of many to obtain citizenship has increased because of their worries about the immigration measures promised by President Donald Trump.
US Employers to Hire More Overseas Workers
Harris Poll's recent survey shows that majority of companies in the U.S. intend to hire foreign workers this year. Most of the overseas workers would come to the U.S. on nonimmigrant visas like L-1 and H-1B US visas.
US Farms Anxious Over Immigration Crackdowns
The U.S. agricultural sector that is more dependent on foreign workers is growing increasingly alarmed by the President's recent immigration raids on undocumented immigrants. Hundreds of arrests have been made in six American states. Due to these raid, undocumented workers are fearful of traveling. Farmers fear that there may not be enough workers for their farms.
Democrats Try to Roll Back Immigration Actions
Senate Democrats introduced legislation to rescind President Donald Trump's executive order that prioritized the deportation of undocumented immigrants with criminal records. Read more.