Black Bean Burritos are made with tortillas, eggs and black beans. Preparation time will not take more than 30 minutes so this simple Mexican meal is great for busy mornings. This will also help begin one's day in a healthy way.
Here's the recipe for a healthy and protein-packed breakfast – Black Bean Burritos.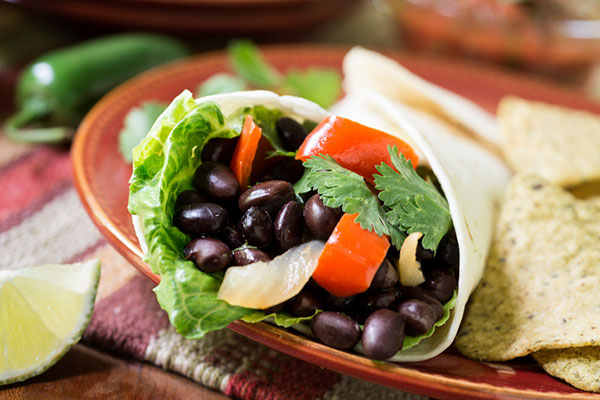 Ingredients:
2 eggs, scrambled

1/4 cup shredded cheddar cheese

2 10-inch whole-wheat tortillas

2 teaspoons olive oil

1/2 small red onion, chopped

1 small red bell pepper, diced and seeded

1 garlic clove, minced

1/2 cup canned black beans, rinsed and drained

1/2 teaspoon chili flakes

1/2 teaspoon oregano

1/4 teaspoon cumin

1/4 cup chopped fresh cilantro

juice of half a lime

salt and pepper (freshly ground) to taste

1 tomato, seeded and diced

sauce
Directions:
To start with, heat olive oil in a skillet over medium heat.

Add onions, bell peppers and garlic and fry until onions turn golden brown.

To this, add black beans and cook for around three to five minutes.

Stir in cumin, oregano, chili flakes, chopped cilantro, lime juice, salt and pepper and transfer to a dish.

Whisk together eggs and cheese in a bowl, adding a pinch of salt and pepper.

Cook in a skillet over medium heat, scrambling eggs until they are cooked. This might take up to three minutes to get cooked. Remove from heat and transfer scrambled eggs to a dish.

Spread one teaspoon of sour cream on each tortilla and layer with ¼ of the black bean and the scrambled eggs mixture. Top it with diced tomatoes and season with hot sauce.

Roll up the tortillas with the stuffing into burritos and serve with greek yogurt, hot sauce or salsa.
These burritos can be stored in the freezer and are easy to reheat in the microwave. To add more flavour to black bean burritos, coarsely mashed sweet potatoes and/or avocados can be added to the stuffing.
Keep track of our immigration blog for more recipes.