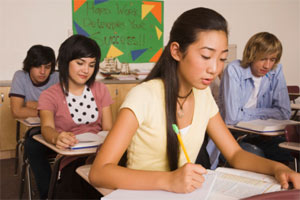 According to the U.S. Immigration and Customs Enforcement (ICE), deferred action recipients whose status is about to expire can file applications to renew Deferred Action for Childhood Arrivals (DACA). DACA recipients who wish to renew their deferred action for another two years, need to submit Form I-821D, Consideration of Deferred Action for Childhood Arrival (DACA).
Form I-821D must be filed along with Form I-765, Application for Employment Authorization and Form I-765WS, Form I-765 Worksheet. These forms must be filled out completely and signed by the applicants. They must be filed along with the filing fee of $465 with the U.S. Citizenship and Immigration Services (USCIS). Applicants must file paper forms as DACA applications cannot be filed online.
USCIS encourages the DACA recipients to file their applications to renew DACA around 120 days prior to the expiration of their current period of deferred action. That is because they may accrue unlawful presence if their previous period of deferred action expires and if they do not receive a renewal of deferred action before that. In that case, they will not be authorized to work in the U.S. until they receive a renewal of DACA. So it is wise to apply for renewal well in advance.
At the time of applying for renewal, DACA recipients need to establish that they were below age 31 as of June 2012 and that they came to the U.S. before they turned 16. They must not have traveled abroad after 15th August, 2012. If they had traveled, they must have done so with advance parole documents.
Applicants need to establish, by submitting documentary evidence, that they were present in the U.S. on 15th June, 2012 and on the date on which they filed their applications for DACA. They must have either got into the U.S. without inspection before 15th June, 2012 or must have legally entered into the U.S. with non-immigrant visas and their lawful status must have expired as of 15th June, 2012. They must have resided here continuously since 15th June, 2007.
Deferred action recipients applying for renewal must be high school graduates or must hold general educational development certificates. If not, they must be honorably discharged veterans of the U.S. Armed Forces or of the Coast Guard. DACA recipients can apply for renewal if they are currently enrolled in schools or in other career training or literacy programs.
Most of all, applicants must not have been convicted of felonies or misdemeanors and must not pose a threat to national security. USCIS will consider the requests for deferred action on a case-by-case basis and will review each application separately to decide whether or not to grant deferred action.
USCIS may not grant deferred action to certain applicants even if they meet the key criteria for this status. If the agency determines that deferred action if not warranted in their cases, the applicants will be notified of the decision in writing. DACA applicants cannot file a motion to reopen or to reconsider their cases and they do not have the right to appeal if the USCIS denies their requests. USCIS may issue a Request for Evidence and require the applicants to submit additional supporting documents if the documents they submitted while filing their applications are insufficient. In such cases, the applicants need to provide the required documents and establish their eligibility for this status.