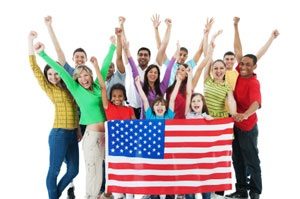 Deferred Action for Childhood Arrivals (DACA) program, a type of prosecutorial discretion, was implemented by President Obama in 2012. This program grants a temporary relief from deportation to young undocumented immigrants who meet a variety of eligibility requirements.
Migration Policy Institute's (MPI) reports show that a total of 2,280,000 undocumented youth in the U.S. are eligible for temporary legal status under the DACA program. Out of them, 1,181,000 are immediately eligible for this status and 473,000 undocumented youth meet all the other requirements except for the educational requirements.
626,000 youth are currently ineligible for this status as they are too young to apply for deferred action but they can file their applications once they turn 15 and if they meet all the other DACA requirements.
MPI analysis also shows that youth hailing from Latin American countries have applied for DACA in more numbers. The least number of applications were filed by Asian youth. Arizona and Texas are the two American states that have the highest applicant rates, whereas New Jersey and Virginia have the lowest applicant rates.
DACA was implemented in order to give a two year deportation reprieve to youth who were brought to America illegally as minors. DACA neither grants legal permanent resident status nor allows the recipients to apply for U.S. citizenship. However, this program has changed the lives of many in the U.S.
Jordan Mazariegos was brought to the U.S. illegally from Mexico by his parents when he was two years old. He grew up in Tulsa, Oklahoma, just like the other American kids. He did not know that he was brought to the country illegally and that he was undocumented. He got to know about his status from his parents and it was only then he realized that he will not be able to continue his studies in the U.S. due to his status. However, this program changed his life and has given him a chance to live and study here legally.
Soon after the DACA program was implemented, Mazariegos applied for it. He met the education and age requirements and received deferred action status in November 2012. This program opened up a lot of opportunities to him and he was able enroll at Tulsa Community College. This program also allowed Mazariegos to get a job and a driver's license. He is now working as an interpreter at an anti-poverty agency, CAP Tulsa. Mazariegos says that he would not have had all these opportunities without this program.
Thousands of youth like Mazariegos who have received deferred action status, can file applications to get their deferred action status renewed. MPI reports show that USCIS has received more than 25,000 renewal applications as of July 20, 2014.
Many have not yet applied for this deferred action status that would change their lives and would grant them job opportunities in the country. Undocumented youth who meet all the eligibility requirements, but who have not applied for this status are now encouraged to file their applications.