The Diversity Immigrant Visa Program through which 50,000 immigrant visas are made available every year, is administered by the government of the U.S. Though the program is conducted by the government, many individuals encounter a lot of green card lottery scams. There are a lot of fraudsters who stop at nothing to defraud people who take part in this program. Now the U.S. Department of State is accepting applications from eligible applicants for DV-2016 and this is the peak time when the fraudsters can defraud people and extract money from them for their applications.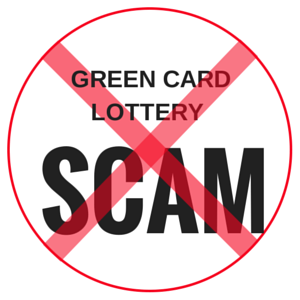 Fraudsters catch people who are looking to participate in this program and who have filed their applications just by cold calling. They also send fake emails and letters to their victims to extract money from them. They simply make calls to people across the globe and tell them that they have won the DV lottery. However, not all who receive such calls and emails fall for such scams; but there are many who do fall prey. That is because they are not aware of the lottery program, how it is run and of such scams.
To avoid being cheated, people need to be aware of the green card lottery procedures. The U.S. government keeps warning people regarding scammers who pose like government persons.
To be on the safer side, entrants of the lottery program must understand the following.
The lottery program is conducted every year and it is free.
DV lottery applications can only be filed electronically during the registration period. (October 1, 2014 at 12:00 noon and November 3, 2014 at 12:00 noon)
The U.S. Department of State will not contact the winners through phone calls, emails or mails. Entrants will need to check whether or not they have won through the entrant status check on the E-DV website.
Applicants are not required to pay money to get to know about the status of their applications.
Winners will not be required to pay the fees by money order or wire transfer. Eligible winners will need to pay the fees only at the time of their immigrant visas interviews.
Only one application must be submitted by an applicant and people who submit more than one application will be disqualified. Some scammers advice people to submit more than one application telling them that would increase their chances of winning the lottery, which is not true.
Entrants of DV-2016 must be aware of the above and prevent themselves from becoming victims of fraud. Our readers can visit our Facebook and Twitter pages for updates on DV-2016.