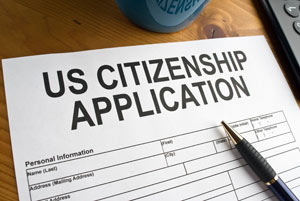 U.S. Citizenship and Immigration Services (USCIS) recently published a new version of Form N-400, Application for Naturalization that must be filed to obtain U.S. citizenship. USCIS will only accept this new form that has a revision date 9/13/13. Applicants must complete all the sections of the form and answer all the questions completely.
Since the first step in the naturalization process is filling in the N-400 application, applicants must see to it that they file a complete and correct Form N-400. The following tips will help them to successfully do so. Individuals must:
check whether the form is the latest version, dated 9/13/13. Web based N-400 applications are available that can be completed on a computer. Web based forms allow applicants to check and correct errors easily. They can also use paper forms if they choose to complete the forms by hand. Paper forms need to be completed using black ink.
read the form instructions completely before filling out the form.
not write on the barcodes or damage them while completing their forms. These barcodes can be found at the bottom of each page of Form N-400.
answer all the questions and write "N/A" if a question does not apply to them. They must not highlight their answers.
leave the space for Alien Registration Number (ARN) blank if they do not have an ARN.
enter dates in the month/day/year (MM/DD/YYYY) format. If they cannot provide the exact dates, they can leave the spaces blank. However, they will need to attach a separate sheet of paper and provide a written explanation.
attach a separate sheet of paper and provide information if the space to answer a particular question is not sufficient. Each additional sheet should have their Alien Registration Number and       specify the part of the application to which the question belongs along with the question number. Each additional sheet should also be signed by the applicant.
not detach any page from Form N-400, even if a page is blank. The whole application has to be submitted.
affix their original signatures in the appropriate space on the N-400 application. Unsigned applications will be returned.
include the correct fee of $680.00 that includes the $85 biometrics fee. Applicants can file requests for fee waivers if they cannot afford the fee. Applications filed without the right fee will be rejected. Seniors above age 75 need not pay the fee for biometrics services but their applications must include a $595 application filing fee. Military applicants need not pay the form filing fee or the biometrics fee.