Breakfast Quesadillas that are made with tortillas, cheese, egg and bacon are super easy to make and are healthy. These quesadillas are freezer friendly and can be made in advance.
Our recipe features eggs, tortillas and cheese but it can be also made with cheese, white beans, spinach and garlic. All these ingredients are rich in protein.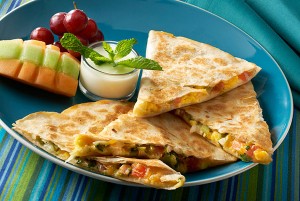 Ingredients:
4 (10-inch) flour tortillas
4 eggs
1 cup shredded cheese
1 onion diced
1 red bell pepper diced
garlic powder
salt and freshly ground black pepper
avocado slices, for topping, optional
sour cream, for serving
Directions:
Whisk eggs, salt, garlic powder, and pepper in a large bowl and set is aside.
In a non-stick skillet, cook onions and bell peppers. Stir and cook until the veggies soften and turn golden brown. Add whisked eggs to this and scramble eggs until thickened. Make sure no liquid egg remains.
Lay tortillas on a nonstick baking sheet and sprinkle some cheese on one side of the tortilla. Place one or two bacon slices on top (optional).
Spoon scrambled eggs over that and fold the tortillas. Quesadillas are now ready.
Clean the skillet and then toast the quesadillas on both sides for around 2 minutes until cheese is melted.
Serve quesadillas topped with sliced avocados with salsa or sour cream.
To freeze: Let the cooked egg filling cool to room temperature. Form quesadillas and wrap each one in a plastic wrap and place in the freezer. Let the quesadillas remain in the freezer bag until they are firm. Transfer these quesadillas to a freezer bag. Frozen quesadillas can be warmed in the microwave oven for around 2 to 3 minutes or cooked in a skillet and served.
Keep track of our immigration blog for more recipes.