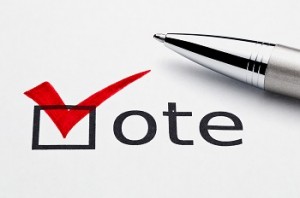 Many eligible green card holders in the U.S. are applying for U.S. citizenship now just because they want to vote in the 2016 Presidential Election. A lot of citizenship campaigns are happening around the country aimed at helping more immigrants to naturalize. Those campaigns help immigrants fill out their citizenship applications and help them through the process.
Many of those who approach those campaigns say that the reason they are applying for citizenship now is mainly because they want to vote. They believe that their communities will have a voice if they become citizens and vote in the elections. Many Latinos want to vote for a candidate who will be in favor of immigrants and immigration.
U.S. Citizenship and Immigration Services (USCIS) is receiving more naturalization applications than ever from many who want to vote soon after they become U.S. citizens. U.S. Department of Homeland Security has now cut delays in processing naturalization applications. Earlier, the process took between six and twelve months from filing the citizenship applications to the naturalization ceremony. But now the wait time has been reduced to a great extent that many receive their naturalization certificates within just five to six months of filing their applications. So eligible people who apply for naturalization now are also likely to get a chance to vote in the Presidential Election in November this year, if their applications are approved.
For those who wish to vote in the elections and take part in the civic life, it's still not too late to apply for naturalization. If they start the naturalization process now, they may likely get their U.S. citizenship before the elections. If a legal permanent resident has lived in the U.S. for five years and meets all the requirements for U.S. citizenship, they can file their applications now.
The naturalization process:
Step 1
Send in Form N-400, Application for Naturalization, supporting documents and application filing fee.
Step 2
 Receive biometrics appointment letter from USCIS and get fingerprints taken at the facility where an appointment has been scheduled.
Step 3
 Wait for USCIS to send an appointment letter for the naturalization test and interview. This interview is where the applicants will have to take the civics and the English tests. At the end of the interview, they are more likely to be informed of the status of their case, whether or not it has been approved. (If additional documents are needed to decide on the case, applicants may not be informed of the status of their case at the end of the interview.)
Step 4
Receive a letter from USCIS with information on the naturalization ceremony. At the ceremony, applicants must return their green cards and take the Oath of Allegiance. They will then be awarded their naturalization certificates.
Step 5
 Register to vote and vote in the 2016 Presidential Election!