Spice up your dinner with simple, quick and flavorful Mexican Rice Pilaf.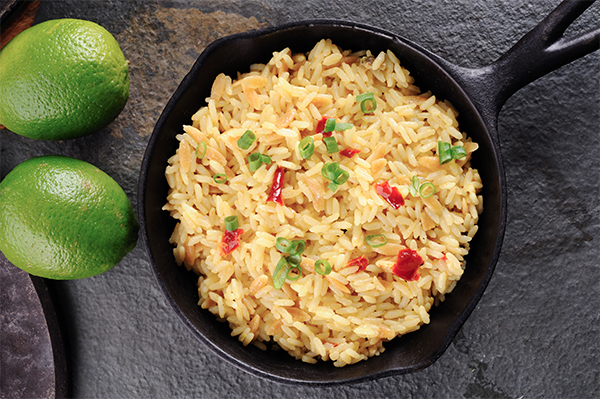 Ingredients:
2 tbs olive oil

2 small onions, finely chopped

1 red bell pepper, chopped

6 garlic cloves, chopped

2 poblano chiles, roasted and chopped

2 tbs tomato paste

2 cups white long grain rice

21/2 cups chicken broth

1 tsp freshly ground black pepper

1/2 teaspoon chili powder

2 tsp ground cumin seeds

2 bay leaves

1/2 cup frozen peas, defrosted

1/4 cup cilantro, finely chopped

Salt to taste

2 tsp fresh lime juice

¼ cup parsley, finely chopped

1 cup shredded monterey jack cheese
Directions:
Heat oil in a saucepan over medium heat.

Add chopped onions, jalapeno and garlic, and cook for around three minutes, until soft.

Stir in chiles, bay leaves, and cumin powder and cook until soft and fragrant.

Add tomato paste, chicken broth, peas, rice, and salt and bring to a boil over high heat.

Reduce heat and simmer until the rice is cooked and liquid is absorbed. Keep the pot covered.

Remove pot from heat and stir in shredded cheese, lime juice and cilantro into cooked rice. Fluff rice with a fork before serving.
Keep track of our immigration blog for more recipes.