Here's the recipe for "Mexican Baked Tilapia and Tomatoes" which will help spice up the coming Spring months. This dish is made with Tilapia, a sweet-tasting fish, that is affordable and always available.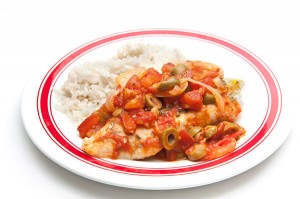 Ingredients:
4 to 5 Tilapia fillets
1 red bell pepper, thinly sliced
1 yellow onion, thinly sliced
2 to 3 garlic cloves
1 teaspoon chili powder
1 teaspoon dried Mexican oregano
1 tomato, diced
1/2 cup pitted green olives, roughly chopped
1/3 cup chopped fresh cilantro
Kosher salt
To start with, rinse fillets in cold water and use a paper towel to pat them dry. Season the fillets with salt and lemon juice on one side and lightly coat the other side with bread crumbs (optional). Lay the fillets side by side in a baking dish with the breading side down. Again, sprinkle lemon juice, salt and bread crumbs on top of the fillets.
Set this aside and start preparing the sauce. Meanwhile, preheat oven to 350°F.
Warm oil in a frying pan and cook sliced onions and bell pepper, until lightly golden brown. Add garlic, chili powder and oregano to it and sauté for around one minute. Add diced tomatoes with the juice and cook until they soften. Then add olives and salt. Simmer for 10 more minutes. Finally, add the juice of ½ lime and stir.
Pour this tomato sauce over the fillets. Make sure to cover them evenly. Cover the baking dish with foil before placing it in the oven. Bake fillets for around 20 minutes. Depending on the thickness of the fillets, baking time can be reduced or increased.
Once the fillets are baked, remove from oven and serve topped with sour cream and cilantro, and lime wedges. This dish will taste great with rice, warm tortillas, sweet corn and black beans!
Keep track of our immigration blog for more recipes.