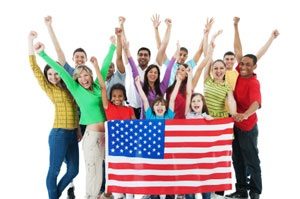 Members of the House are working on a new bill called the KIDS Act and the House is likely to support this piece of legislation on undocumented immigrants. Majority Leader, Eric Cantor (R-VA) and the House Judiciary Committee Chairman, Bob Goodlatte (R-VA), stated that this KIDS Act will benefit the DREAMers.
DREAMers are the undocumented immigrants who were brought to the country by someone else and they entered into America through no fault on their part. America is the home for most of them and they do not know their home countries.
The immigration reform bill that has been passed by the US Senate would benefit the DREAMers. That bill would permit the DREAMers to initially apply for Registered Provisional Immigrant status and then for permanent resident status. This Senate bill would require the undocumented immigrants to wait for ten years to get Green Cards. But the wait time for the DREAMers to get Green Cards would be 5 years and soon after these DREAMers get Green Cards, they could apply for US citizenship. Though this provision of the Senate bill would address the needs of the DREAMers, the House has stated that it would come up with smaller bills that would address individual concerns.
Cantor and Goodlatte, earlier voted against the DREAM Act and they also came up with an amendment to stop deferred action. Deferred Action is President Obama's policy that halts the deportation of DREAMers and the DREAMers who receive deferred action status can remain in America legally.
Though Cantor voted against deferred action, he wanted the House to come up with a solution for the DREAMers. Cantor stated that the country must consider the DREAMers and that they would become stateless, if they are removed from the United States.
The KIDS Act that the House is currently working on, is likely to be similar to the DREAM Act. This Act would grant the young undocumented immigrants authorization to obtain legal status and remain in America. This Act would be an alternative to the DREAM Act and this is one component of immigration reform. According to Goodlatte, immigration reform must solve our country's immigration problems and stiffen border security.