While immigration reform takes center stage on the political front, immigrants have been garnering attention in the sports fields as well. The world at present is united in football fever. U.S. is a part of this fever, not only as a participating team but also because of the composition of its members.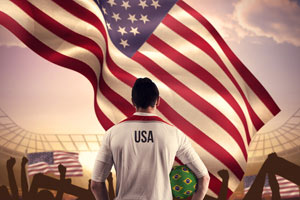 Though there has been an increasing backlash against immigrants in the U.S, there is widespread support for immigration reform and immigrants. When it comes to World Cup Football, reports show that more than half of the players come with a migration background. Not only the U.S., other countries like Italy and Germany also have immigrant players.
Following are the players in Team USA with a migration background.
Striker Jozy Altidore – born to Haitian nationals.
Goalkeeper Tim Howard – born to a Hungarian mother and a U.S. father.
Striker Aron Johannsson – born to Icelandic nationals in Alabama.
Midfielder Mix Diskerud – born in Norway to a Norwegian father and an American mother.
Defender Omar Gonzalez – born to Mexican parents.
Midfielder Alejandro Bedoya – born to Colombian parents.
Defender John Brooks, defender Timothy Chandler, midfielder Jermaine Jones, and defender Fabian Johnson were born in Germany when their fathers, who were members in the Armed Forces, were stationed in Germany.
While talking about team members, it is interesting to also note that strikers Chris Wondolowski and Clint Dempsey and defender Geoff Cameron on team USA, are half Native Americans.
This is one more area in which the flow of talent across the borders confers benefits upon the U.S. Immigration reform advocates believe that this is another reason to hope that the U.S. will pass a reform bill.
Team USA has now been dragged into the debate on immigration reform. The leader of the Democrats in the House of Representatives, Nancy Pelosi, and few other Democrats in the House, posted a photograph of members of the U.S. World Cup football team on Twitter.
Seven out of the eleven men pictured were whited out in the photograph. Ms Pelosi also tweeted that "Immigrants help drive America's success, even in the World Cup! Look at what #USMNT would be without them." USMNT stands for U.S. Men's National Team.