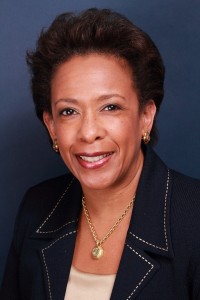 Attorney General nominee Loretta Lynch backed President Obama's executive actions on immigration reform during her Senate Judiciary Committee confirmation hearing on her nomination. If confirmed, Lynch will succeed Eric Holder, the 82nd Attorney General of the U.S. She told the members of the Senate Judiciary Committee that she read the papers justifying what U.S. Department of Homeland Security (DHS) is doing. She said that DHS is unable to remove all the undocumented immigrants from the country and that the agency is seeking legal advice on the most effective way to remove criminals and protect those who do not pose a threat to the country's national security from deportation.
While responding to questions asked by the Senate Judiciary Chairman Chuck Grassley (R-Iowa), she said that she did not advise the Obama administration on its immigration policy. One of the opponents of the executive actions taken by the President, Sen. Jeff Sessions (R-Ala.), asked Lynch if citizenship is a legal right to those living here illegally. She replied that it is a privilege that must be earned and that it a right to those born on American soil. She also acknowledged that there is no civil right in law that permits undocumented immigrants to apply for U.S. citizenship.
When she was asked whether those in the country illegally have the legal right to work here, she said that everyone should be able to work here. She said that the right to work is something that is shared by everyone in the country irrespective of their status. However, she said that the U.S. employers must abide by the country's immigration laws and they must not hire workers illegally.
John Cornyn (R-Tex.) asked Lynch how she will be different from Eric Holder. She said she would be the person she has always been – Loretta Lynch, and that she will focus on the protection of the people if confirmed as Attorney General. Moreover, Lynch who is now the attorney for the Eastern District of New York, would become the first female African American Attorney General of the Justice Department, if confirmed.
Lynch was nominated by President Obama as the next Attorney General of the U.S. in November 2014, before the Republicans took control of the U.S. Senate. Though she has already earned praise from many GOP members, she faced tough questions from the Senate Judiciary Committee members on the first day of hearing on various issues including immigration. However, Lynch defended the executive action on immigration taken by President Obama that would spare millions of undocumented immigrants from being deported from the U.S. and allow them to work here legally.