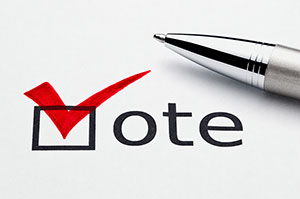 U.S. citizens need to be registered to vote in a federal election. This is a requirement in most of the American states. Only U.S. citizens have the right to vote. This privilege is not meant for green card holders and other nonimmigrants.
One can register to vote, if he or she is a U.S. citizen, above age 18 and if they meet the residency requirements of the state in which they live. Some states allow those who are 17 to register. So citizens will need to check their state's voter registration age requirements before they register to vote.
U.S. citizens living in 31 Americans states and the District of Columbia can register to vote online by visiting Vote.USA.gov. The others who cannot register online can download the National Mail Voter Registration Form, fill it out online or complete by hand and mail it to the location of their respective states.
Voter registration deadlines may not be the same for all American states. Most of the American states require people to register to vote ahead of the elections. While some states allow applicants to even register to vote on the Election Day, some states close registrations 30 days before the election.
U.S. citizens who wish to vote need to find out their respective state's registration deadline and make sure they are registered to vote. It is important for all U.S. citizens to make sure their voter registration information, including their name and address, are up-to-date before an election.
The name and address citizens provide while registering to vote must match the one on their voter ID cards or other identification documents they are planning to use at the polls. If necessary, they will need to get a new voter ID card before the election.
U.S. citizens can vote in federal elections, but it is important to register to vote. If they have moved from one state to another, they must re-register in their new state even if they were registered earlier. However, they cannot be registered in two places. When a citizen registers in the new state, the election office will take their old address and send a cancellation form to their previous election office. Those who are temporarily away from their legal residence, like students, military members and people on business trips or vacation, can use the absentee ballot to cast their votes.
This voter registration is also important to all the newly naturalized U.S. citizens. All those who have recently received their U.S. citizenship need to be registered to vote for the President of the U.S.