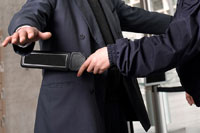 Transportation Security Administration has recently changed the screening procedures and this change will help the children, senior travelers and trusted travelers, who travel to the United States. This change made by the TSA will enable the seniors, children and the trusted travelers to go through the airport security checkpoints sooner and this will allow the travelers to board their flights quickly. Similarly, this will allow the airport officers to concentrate on people who are likely to threaten the country's security.
Security Procedures for the Seniors
Seniors above age 75 may not be required to take off their shoes while going through the airport security checkpoint and they also need not remove their light jackets. To reduce TSA passenger pat-downs, seniors may go through metal detectors or body scanners, to resolve alarms.
Moreover, travelers with disabilities may contact the TSA by dialing the toll free number 1 (855) 787-2227, for information on the security process. However, they will have to contact the TSA, 72 hours prior to their scheduled departure time and that will help the TSA to make changes, if required.
Security Procedures for Children
In order to reduce pat-downs, TSA has made new changes in the airport security procedures. If you are a child below age 12, you need not remove your shoes to go through the airport security. And you may also go through body scanners or metal detectors, few more times, if the alarm is triggered while you go through the body scanners and this will minimize the need for pat-downs.
However, officers at the airport never separate the parents from their children while children go through the security checkpoint. Similarly, people traveling with small children are allowed to take with them 3.4 oz. of liquid such as juice and medicine.
Security Procedures for Frequent Travelers
The new program of TSA, "TSA Pre✓" will help the frequent travelers and will allow them to quickly go through the security checkpoints. TSA Pre✓, is available in around 30 US airports and is available to travelers of Alaska Airlines, Delta Airlines and few other airlines.
Frequent travelers who enroll in TSA Pre✓, may not be required to remove their light jackets and shoes while they go through security checkpoints. Similarly, such travelers will be permitted to keep their computers in their bags.
Check out www.tsa.gov more information on airport security procedures.
To learn more about online immigration forms and for recent immigration news, click here.