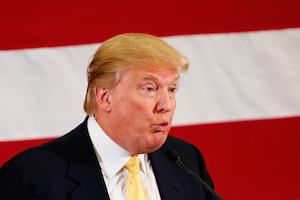 Republican presidential nomination candidate Donald Trump renewed his campaign against illegal immigration in the United States on Monday, rallying thousands of supporters in the state of Texas and promising the leaders of the Republican Party that he is only just beginning his fight, despite calls from party officials to rein back his fiery rhetoric.
Trump says that the United States has become the world's dumping ground and decried gang members who are illegally residing in the country and 'anchor babies' born to undocumented immigrants, drawing a standing ovation from the massive audience at the American Airlines Center in Dallas. The venue has a 20,000 seating capacity and the evening rally saw it at least three-quarters full for Trump's latest speech.
Trump said that what was happening to America was "disgusting" and that undocumented immigrants are "all over the place". Trump's inflammatory comments from the very beginning of his presidential campaign have caused much controversy and criticism; however, they have also resulted in him far outstripping his rivals for the position of Republican candidate and the fiery real estate mogul has consistently refused requests, even from some of his supporters, to tone down his speeches.
Trump has warned critics who believe his campaign is just to show that they are badly underestimating both him and the feelings of the American people. "This is a movement that's happening," he says. "Now it's time to really start because this is going to happen, I'm telling you, I'm not going anywhere. Unless I win, it's been a waste of time for me, folks."