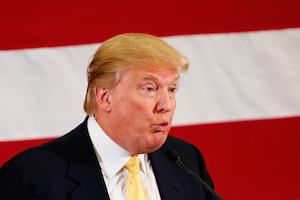 Donald Trump stood behind his criticism of the immigration policies of the United States on Monday, despite a backlash from the media. The businessman and Republican presidential candidate issued a new statement in which he refused to apologize for the speech he made to launch his campaign for the presidency last month, in which he described Mexican immigrants as criminals, drug dealers and rapists.
Trump pointed to his popularity in a number of opinion polls as evidence that a large amount of Americans agree with his views. "I think the polls are a testament," Trump said during a charity golf tournament. "In the old days, they used to use a term, 'the silent majority'. We have the silent majority back, folks."
A number of businesses have cut ties with Trump following his controversial comments, but the New York Yankees is not one of them. Hank Steinbrenner, the co-chairman of the team, calls Trump a "loyal friend" and says he does not turn his back on his friends.
In his statement Trump reiterated his prior claims that it is only the worst of Mexico that is being sent to the United States and pointed to the recent case of a San Francisco woman who was murdered by an undocumented immigrant Mexican who had already been deported on no less than five occasions as evidence of the truth of his claims. "The United States has become a dumping ground for Mexico and, in fact, for many other parts of the world," he explained.